50 Employers Registered for Job Fair Wednesday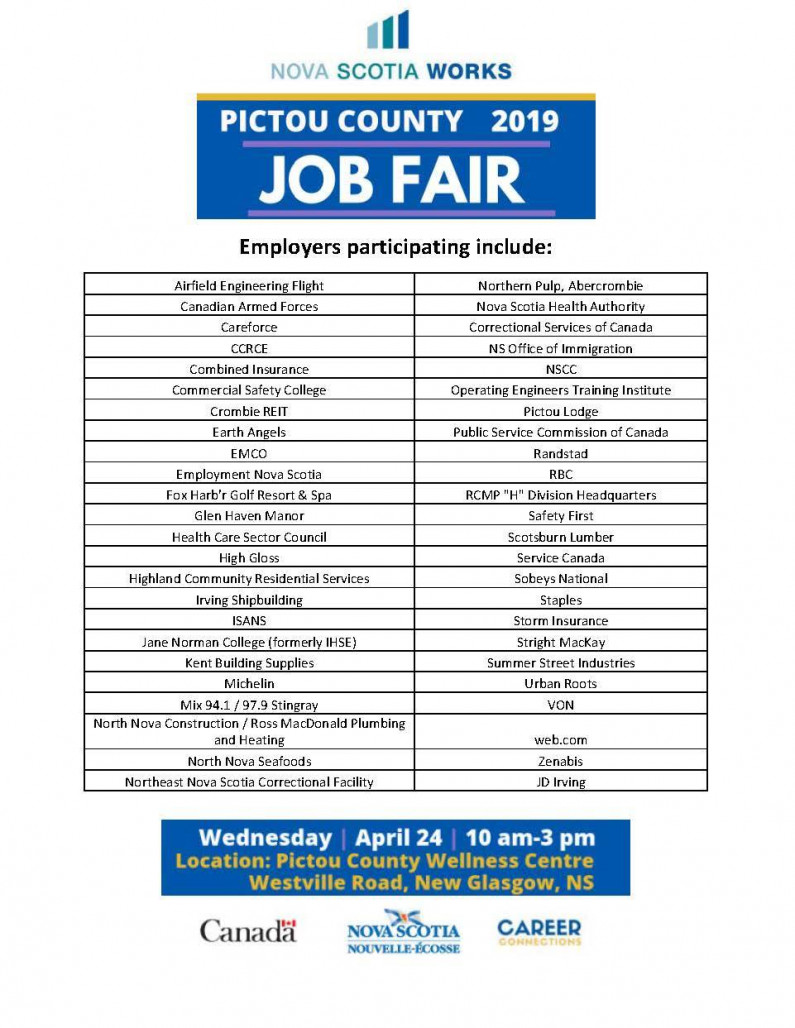 WESTVILLE ROAD, N.S. -   Looking for a new job or a career change?   Are you a summer student looking for work for the next few months?  
Look no further then the Nova Scotia Works Pictou County Job Fair Wednesday, April 24 at the Pictou County Wellness Centre from 10 a.m. to 3 p.m.    
Heather MacIsaac, an employer engagement specialist with Nova Scotia Works Pictou County, said 50 employers are part of this year's job fair which makes it one of the largest job fairs it has ever hosted.
"Twelve hundred people went through last year and we are expecting a good crowd this year," she said.
Employers have booths with information about their businesses.  People are welcome to approach as many booths as they wish and speak with employers as well as submit their resumes.
Here are some last-minute tips for people coming to the job fair:
Be sure to bring extra copies of your resumes.
Dress to impress! Business casual is recommended (neat and tidy – clean pants, skirts, top.)
No torn jeans, t-shirts or other items
Remember to leave your ball hats in your car
It is usually busy and a full crowd. Take your time and if its too crowded, take a break and come back when it is less crowded
Staff are on hand to assist you. Ask if you need direction to where an employer is located.
Smile. Be friendly and remember to shake the employers' hand.
MacIsaac said these might all seem like small things to remember but they will make a person stand out and help with nervousness.  Being prepared is key to making that great first impression.
Nova Scotia Works Pictou County will open its office at 8:30 a.m. Wednesday for anyone needing last minute photocopying done of their resumes, a list of employers at the job fair or advice from one of its counsellors. More information can be found on its website at www.careerconnections.ca