A Lifetime Connection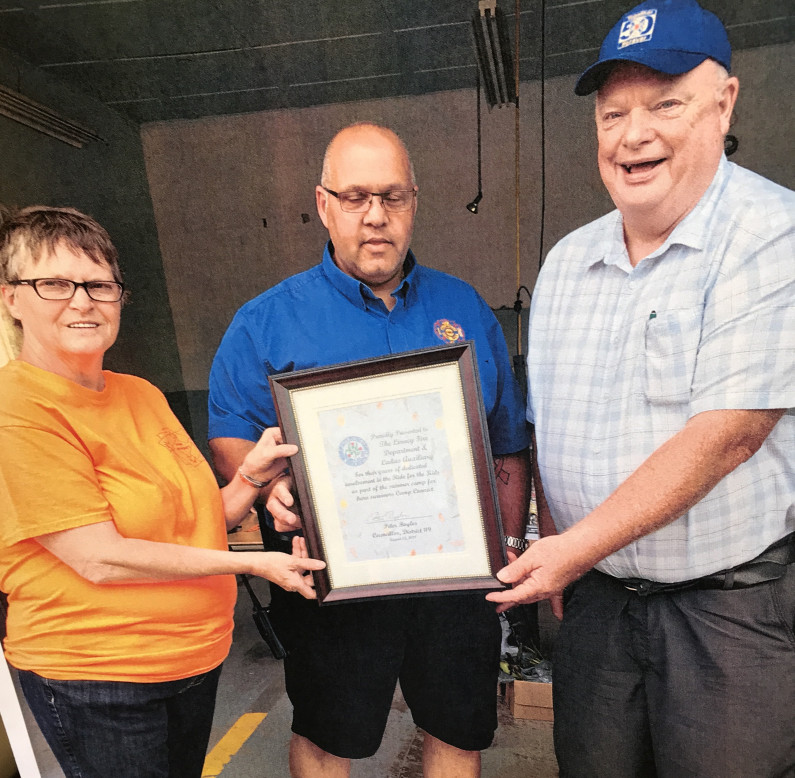 District 9 Coun. Peter Boyles, right, presents Delrosa Stewart, left, and Linacy Fire Chief Dale Pettipas with a plaque of appreciation for their involvement with Camp Connect.
LINACY – For Steven and Delrosa Stewart, Christmas comes every August.
This is when the Pictou County couple celebrate kindness and giving with volunteers and children at Camp Connect, a burn survivor camp held at Scotia Glen Camp in Thorburn every August.
"We wish our summer away for the camp," said Steven.  "We can't wait for it to come and we can't wait to see the smile on the kids' faces."
The Stewarts became involved with Camp Connect about 18 years ago through their involvement with the Linacy Fire Department.   The camp is organized by the Nova Scotia Firefighters Burn Treatment Society and host as many as 40 kids a year.   He said many of the children who attend the camp come back later in life as counsellors.
Steven said he first became aware of the camp when it would rent the Linacy fire hall for a dance for the campers and the fire department assisted with a firework display.
About seven years ago, Steven was speaking with the camp coordinator, who was also a fellow motorcycle enthusiast, and he noticed the children were interested in his bike.
The next year, the Stewarts arranged for a few friends to join them at the camp with their motorcycles and to take the children for rides around Scotian Glen.   They raised $1,000 just by passing a helmet around and ever since the money raised has increased.   
Steven said bikers travel from across Nova Scotia and other parts of Canada to be part of the Annual Ride for Kids night which sees more than 40 bikes line up at the Linacy Fire Hall and parade to the Scotian Glen where they give motorcycle rides to the children for about two hours and enjoy a barbecue hosted by Linacy firefighters.
This year, close to $12,000 was raised for Camp Connect during the Annual Ride for Kids and some of that money came from outside fundraisers by local motorcycle and jeep groups.   All the money raised goes back to the burn camp to help with operating expenses for the next year.
"Our goal is to raise enough money every year to cover the cost of the camp and this year we are halfway there," he said.
The Stewarts said their involvement with the camp has changed their lives and extended their family.   This was reaffirmed a few years ago when they were travelling on their motorcycle through Kentville and passed by a young girl who attended the camp and ended up spending a good part of the day visiting with her.    
 "It is one of those things you have to experience yourself to see the emotion. You have big burley bikers leaving with tears of joy in their eyes."
More information on Camp Connect can be found at https://www.nsffbts.ca/