A Place for Everyone: Hillside Community Society Working Towards the Opening of a New Centre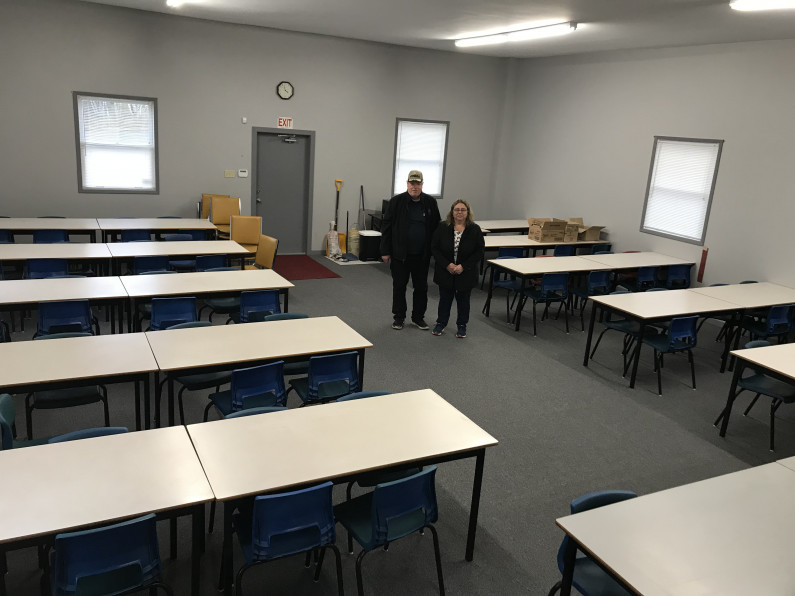 Peter and Sadie Boyles, members of the Hillside Community Society, stand in the new community hall. 
Hillside - It is more than a building.
For Peter and Sadie Boyles, the newly acquired Hillside Community Centre is a place for a community to come together and grow.
As founding members of the Hillside Community Society, they and 20 other residents are seeing their dream become a reality with the recent purchase of a building that once housed Thorne's Burner Service in Hillside. Before it was a business, the building was a church hall built in 1947 by veterans who returned from war and wanted to give something back to their community.
This has a special place in the Boyles' life since Peter's father was one of the veterans who helped construct the building, and now it is being returned to the community.
However, this wasn't part of the original plan. Peter says he always promised that if he were elected to municipal council, he would work towards having a community hall in Hillside. When he was elected in 2016, the society was formed, and plans were made to construct a new building on a piece of land across from the current location.
The land was owned by the Municipality of Pictou County because it once housed the Hillside school, and it was deeded to the society for $1 last year. The society continued with its fundraising efforts by hosting flea markets, bottle drives, and ticket draws, but when the price on the current building became favourable enough to purchase, the society put in an offer.
"I originally wanted to see a new building built because everything would be done, but like Peter said, his father was one of the guys who came from overseas and helped build this," said Sadie.
Peter added it would take longer for Hillside to have its community centre if it was a new build, whereas now it has a building, and the society is getting ready for events in December.
On Dec. 15, the society plans to unveil a plaque given to it by local historians Clyde MacDonald and Philip MacKenzie of the Murray Quintuplets who was born in the area while a community gathering is also being planned for New Year's Eve.
There is still plenty of work to do, including having walls of pictures dedicated to local veterans and sports heroes. The society also has a bell from Hillside School that will be displayed in the hall. More extensive projects include building accessible washrooms and having a kitchen built upstairs.
It has a lot of positive things going for it as well, including available parking not only in the lot next to the hall but across the street where the society planned to build initially. It has new heat pumps while the walls are painted, and the carpet on the floor is in good shape.
"Peter would like to have a pool table in the basement, and there are already dartboards up," said Sadie. "The seniors, at one time, had game days over here, and they would play darts and cards and bring a lunch."
The society would like to see a senior's club started again in the hall, and it will be spreading the word that it is available for receptions, community groups, exercise classes, or anything else that people need it for.
"You don't want to say no to anyone," Sadie said. "We are in it to help the community. "
The Boyles said the community has been supporting the society every step of the way by pitching in to help with cleaning tables, chairs, fridges and a freezer donated from the former car works. It has also been very supportive of its ongoing fundraising efforts that include tickets currently being sold on a generator and a dance at the Pictou Landing Fire Hall this weekend.
"We have to show people it's here to stay, and it's yours," said Peter. "It's not mine, it's not Sadie's, it's not the group's, it is everybody's hall."
Anyone interested in helping the society with its work, supporting its fundraisers, or renting the hall, can contact Peter and Sadie Boyles at 902-759-7976.