Bikes for Kids Up and Running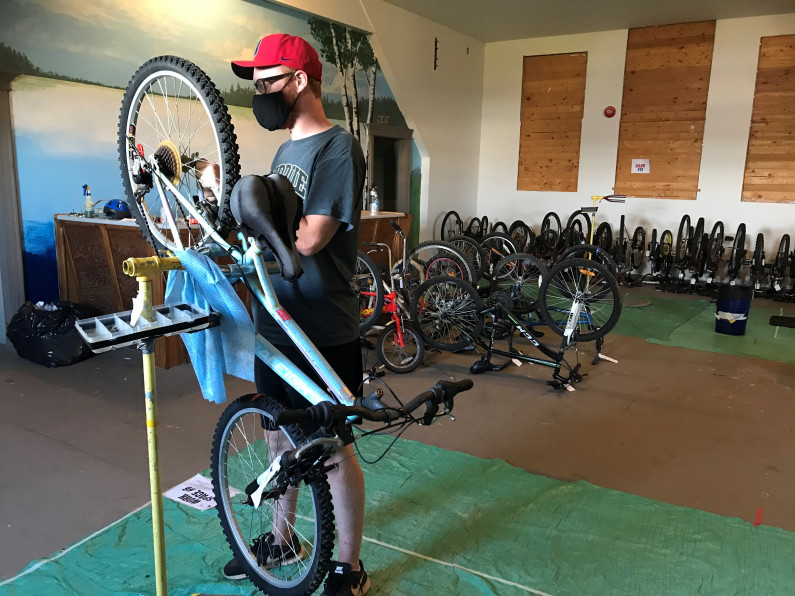 Here, Nathan Snell, the Bikes for Kids coordinator, works on a bicycle the Bikes for Kids location in the CN Station, Pictou.
Are you wondering about getting a free refurbished bicycle for your child this summer? Bikes for Kids has already found homes for 30 bicycles and it has plenty more waiting to be sent on their way.
How does the Bikes for Kids program work?
When an application is submitted, it is paired with a bike that will fit the applicant. Any repairs that need to be made on these paired bikes are made by a group of dedicated, hardworking, and knowledgeable volunteers. Volunteers gather weekly to ensure that bikes are in safe, working condition before they are distributed to applicants. Once repairs are completed, the applicant will be contacted to arrange a pickup of this free of charge 'new to you' bike.
What ages are being considered to receive a bike?
Our smallest bikes are suitable for children around the age of 4 and range all the way to large adult-sized bikes. Our program is aimed at providing bikes to those under 18 years of age in need, but no applications will be turned away. However, applications for those under the age of 18 will be processed first to ensure they are able to be fulfilled.
How do I donate bikes?
The Bikes for Kids program would not be able to operate without the generous donations of bicycles from the community. Bikes of all sizes and conditions are accepted and needed. To donate a bike, you can contact me at 902-759-9523, or via email at bikes4kids@activepictoucounty.ca so we can find a way to get the bike to our repair space that works best. You can also contact your local recreation department to arrange drop off of bikes at any town hall throughout the county.
Do you pick bikes up from people?
Unfortunately, we are currently unable to perform pick up of donated bikes. However, there are a number of ways you can easily get your bike donation to us. Call 902-759-9523 or email bikes4kids@activepictoucounty.ca to find out how we can get your bike to us in the way that works best for you.
If my application is successful, will you deliver it to me?
We current cannot offer delivery of bikes to successful applicants. However, similar to donating bikes, there are a number of ways that we can work to ensure pick up of your bike is as easy and as accessible as possible. Successful applicants will be contacted when their bike is ready, and arrangements will be made to get the bikes to the applicant.