CARMA says it is finding success in controlling feral cat population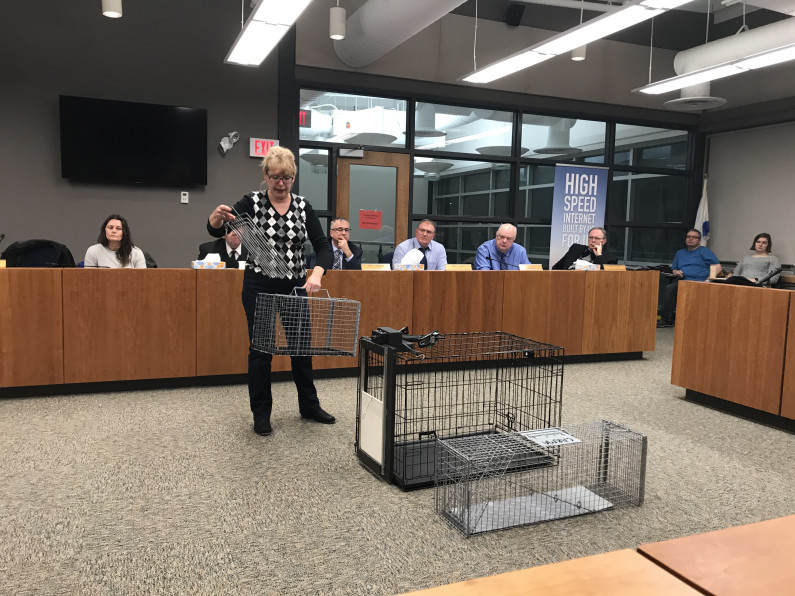 Here, in this photo, Helen Baudoux- MacLaughlin demonstrates how the local CARMA chapter traps feral cats that are neutered and quickly returned to their colonies.
PICTOU, NS – A local group of volunteers dedicated to controlling the feral cat community is seeing success.
Cat Maritimes Rescue, otherwise known as CARMA, recently made a presentation to the Municipality of Pictou County to provide councillors with an update on its services.
Helen Baudoux-MacLaughlin, president of CARMA, said the organization has been able to trap-neuter and return 873 feral cats in the past three years while 483 fetuses were aborted, and 482 kittens were recovered from community colonies within the Municipality of Pictou County.
She said the chapter has developed a good relationship with the SPCA shelter in Grant and it can now surrender all kittens along with all stray (tame) cats that have been recovered from community locations.
"This relationship allows us to allocate our financial resources to the community cats of Pictou County verses having the responsibility to vet kittens and tame cats in addition to relieving us of the time and effort it takes to find adoptive homes," said MacLaughlin.
When the Nova Scotia SPCA's Mobile Clinic comes to Pictou County, the local CARMA Chapter works to secure a set up  location at least 20 kms from the nearest Pictou County veterinary hospital for the mobile unit to work from, trap 3-35 cats and have them secured the night before, have them weighed and then return them to their respective colony the next day.
"Although this entails a tremendous amount of work for CARMA volunteers, it involves little financial input from our chapter," she said. "To date, we are the only organization in Nova Scotia that takes full responsibility for the mobile clinic; in most areas the NSSPCA staff does the trapping and set up so they are always willing and eager to come to Pictou County."
MacLaughlin said the chapter receives about 80 requests per year throughout the Municipality of Pictou County, but the amount of work it can do is depended on volunteer availability and funding. She said the chapter has good relationships with local vets who provide the neutering service for a reasonable price, but there are still costs involved with its services.   
Volunteers use their own vehicles and gas to transport equipment and cats, but the chapter does provide tax receipts.  In 2018, it issued $12,933 in tax receipts to volunteers.
In addition to the TNR program, it also responds to urgent requests for cats and kittens in need.
"Such instances include a cat in River John who was full of porcupine quills after being abandoned and starving and resorted to eating roadkill that ultimately would have resulted in his death. There were also two kittens left at the roadside in Millsville as reported by a WEEKS Construction road crew and relocating a small colony of cats from along the Scotsburn Road because the senior caregiver was no longer able to care for the cats due to failing health."
She said although towns and municipalities do not currently address cats within their bylaws, the fact remains that intervention is needed and it is CARMA's hope that it is recognized as helping to fulfill that need thereby saving  the Municipality substantial money  and manpower while providing caregivers and citizens with access to a necessary resource, said MacLaughlin.
She said one noteworthy intervention in Foxbrook this year resulted in 35 adults TNR, one adult euthanasia, one adult tame surrender to the SPCA, removal of five kittens and most staggering was that veterinarians performing the surgeries reported that a total of 35 fetuses were aborted.
"Not only would the caregiver have been completely overrun yet a colony of this size would have resulted in migration throughout the community, instead because of our TNR program this situation has been stabilized and the caregiver who truly cares for the cats feels it's manageable and reports improved quality of life both for himself and the cats."

MacLaughlin thanked the Municipality of Pictou County for its financial support in the past and she said it would be applying for new grant funding soon.
"The caregivers we have helped over the years have consistently reported that the cats are healthier and that the numbers in their colony continue to decline through attrition," she said.  "TNR programs do work, and they humanly reduce the cat population."