Chair exercises provide the perfect balance of exercise, strengthening and socializing.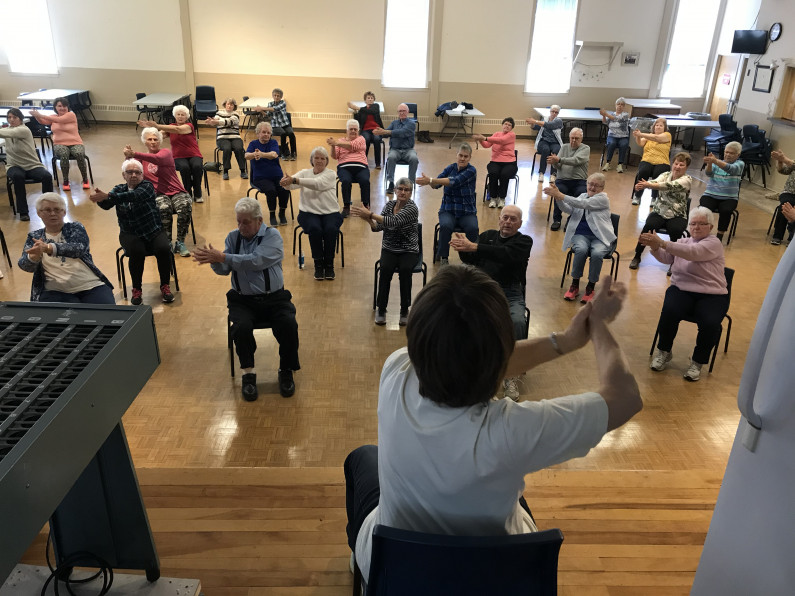 Chair exercises provide the perfect balance of exercise, strengthening and socializing
PICTOU, NS - Don't doubt it until you tried it.
Some people might think chair exercises are not worth their time, but Sharon Lynch has news for them.
In fact, the proof is in the pudding.
Lynch hosts four chair exercise classes each week, and they can draw in crowds between 30 and 80 people.
"It is approved by five different physiotherapists, and it's for people not comfortable getting down on the floor for exercise or if they don't do a lot of standing exercises without support," she said.
Classes are held in Westville, Trenton, and Pictou. The Pictou class was started after a Pictou physician contacted Mary MacLellan of the Pictou County Seniors Outreach and asked if chair exercise could take place in the area since he was hearing good things about from his patients.
MacLellan went to work and asked Lynch if she would take on more class and then secured the Pictou Legion as the site. The Pictou class is sponsored by the Pictou West Community Health Board and the Aberdeen Hospital Foundation. There is a $2 charge for each session.
Lynch said the exercises might seem simple to some people, but over time people make show improvement.
"I always stress the importance of the core," she said. "I try to get people to sit up straight for the whole class because by doing that, you are engaging your core, making it stronger, helping your posture and balance."
These are also exercises that can be done easily at home, and every activity has a purpose, she said. For example, sitting and moving your foot from heel to toe helps to strengthen your ankles, which in turn helps with walking and balance.
"I tell them to do what your comfortable doing," Lynch said. "Don't worry about what your neighbor is doing because you will build up."
MacLellan said there is also a beneficial social aspect to it all as well because people have a place to go in the winter months when it is usually more difficult to get around where they can chat with friends and meet new people.
All the chair exercise classes run until the end of May. No pre-registration is required.
For more information, contact Mary MacLellan at the Pictou County Seniors Outreach at 902-752-8406.
Chair Exercise Locations:
Pictou Legion
Fridays 1-2 p.m.
$2 per session
Westville Town Hall Gym
Mondays and Thursdays 10-11 a.m.
$2 per session
First United Church Trenton
Mondays 1-2 p.m.
$2 per session