DEANS Lunch and Learn Serves Up Senior Volunteer Opportunities.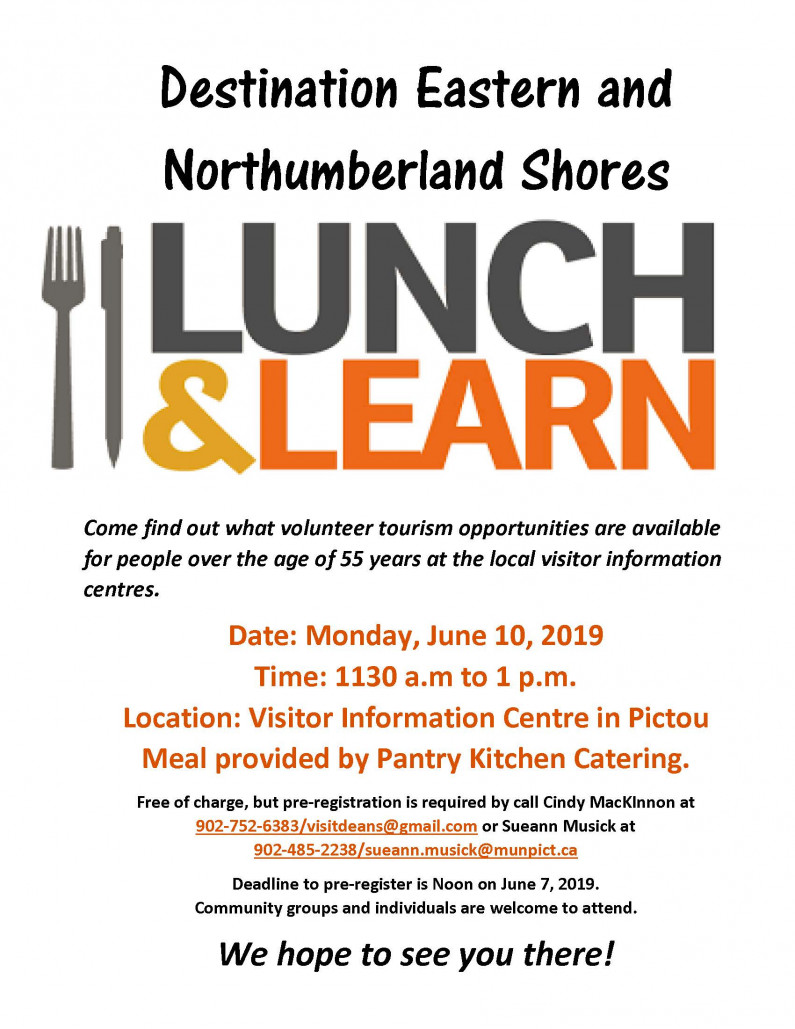 Kelyn Palmer, regional tourism coordinator with Destination Eastern and Northumberland Shores this summer invites people over the age of 55 to its Lunch and Learn on June 10 at the Pictou Visitor Information Centre to learn more about volunteer opportunities this fall.
PICTOU, NS - Local tourism needs the help of people over the age of 55 to keep their visitor information centres open until December. 
Cindy MacKinnon, managing director with Destination Eastern and Northumberland Shores, said it typically closes its visitor information centres in September due to funding challenges, but if seniors were willing give a few volunteer hours a week, it could remain open until Northumberland Ferries close in December. 
"We want to the 55 plus community involved they have lots of knowledge, have lots of stories to tell, and maybe want to come in for a few hours here and there," she said. 
MacKinnon said the program will be run similar to one currently operating at the airport in Halifax where seniors volunteer their time answer questions for visitors. 
Anne Emmett, who has been a long-time volunteer with DEANS, will be in charge of the program and training will be made available to all volunteers so they are well prepared when they are called upon.  
"It is matter of two and half months," MacKinnon said. "It doesn't have to be every day all day. It can a few hours in the middle of the day. "
In hopes of attracting people for this volunteer opportunity, DEANS will be hosting its own Lunch and Learn on Monday, June 10th from 1130 a.m. to 1 p.m. at the visitor information centre in Pictou.  Groups or individuals are welcome to attend. 
People can come see the centre, learn about program and have a delicious lunch catered by the Pantry Kitchen. It is free of charge, but pre-registration is required by contacting Cindy MacKinnon at 902-752-6383/cindy@visitdeans.ca or Sueann Musick at 902-485-2238/sueann.musick@munpict.ca
Registration deadline is Noon on June 7.