Demystifying Solar Electricity for Nova Scotia Homeowners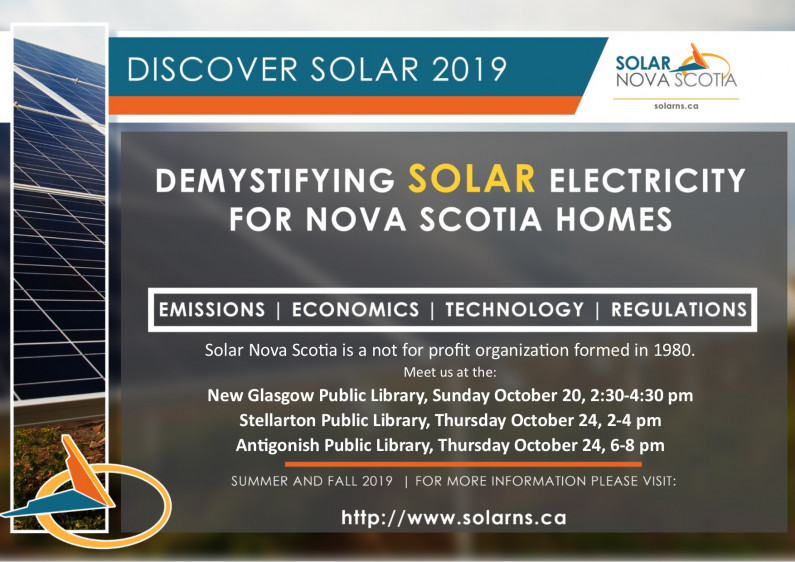 In partnership with communities throughout the province, Solar Nova Scotia will be offering public information sessions on solar electricity (PV). These presentations are designed to de-mystify the technology, economics, and regulations that apply to homeowners interested in producing their own sustainable energy. PV is one of the lowest emission sources of electricity available!
Solar Nova Scotia is a not for profit society formed in 1980; we are dedicated to improving sustainability by developing and sharing good information on solar energy.
Sessions involve approximately a one-hour slide presentation, ideally delivered over a two-hour time frame to allow for discussion, question and answer time, and a workshop exercise on site assessment.
Our partners are contributing presentation space and publicity support. Community groups or individuals interested in hosting or helping to publicize an event are invited to get in touch.
info@solarns.ca or christie.m.chaplin@gmail.com or
Call project manager Christie Chaplin (-Saunders) at L. 902 275 3235 or C. 902 277 1802
For a list of scheduled events and to register please visit:
http://solarns.ca/
Sessions in Pictou County will take place:
New Glasgow Public Library, Sunday, Oct. 20 from 230-430 p.m.
Stellarton Publi Library, Thursday, Oct. 24 from 2-4 p.m.
You will learn:
 that solar electricity works in Nova Scotia!
 how and why productivity varies by location
 many systems pay themselves off in 10-12 years
 how to evaluate quotes for a PV system
 the specifics of available loans, rebates, etc.
LENGTH: 2-hours