East Pictou High School Reunion Set for July 19 and 20th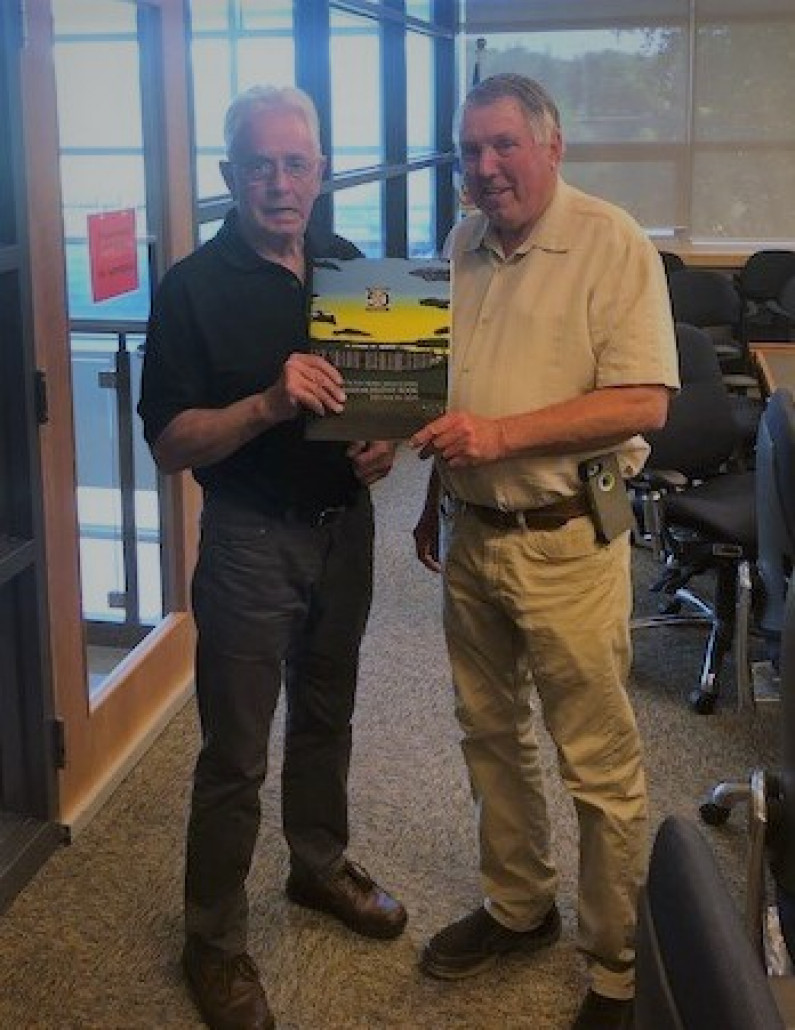 Here, District One Coun. Don Butler, who is also chairman of the EPRH Together Forever Committee, is shown presenting County Warden Robert Parker with a copy of the EPRH Commemorative Book which just came off the press. It captures the life of the high school which spanned from 1952 until 2003.
Sutherland's River, N.S. – Timing is everything.
Just ask the organizing committee of EPRH Together Forever that is celebrating East Pictou Rural High School's 50 -year history this July by inviting former staff and students back to the school one last time before it permanently closed.
Since 2003 the building has been used as a middle school, and more recently as a P to 8 school while renovations at the Frank H. MacDonald are ongoing.  Later this year, the students will head back up to the Frank H. and East Pictou as we know it, will become vacant.
"It brings a bit of sadness to mind, however, an energetic committee of former students got together last fall and decided to make this a time for celebrating.  Celebrating all that the school has meant to the East Pictou community," said District One Coun. Don Butler who is also part of the school's alumni.
Activities will get underway on Friday, July 19th at 1p.m. with an alumni Best Ball Golf Tournament at Glen Lovat Golf Course.  The spotlight shifts to the East Pictou School where a Meet & Greet will be held in the cafeteria from 6:30 until 10:30 p.m.   Classrooms on the lower level have been set aside as headquarters for classes.  The fifties and sixties in one, the seventies in another and so on. Class pictures will be on display and folks are encouraged to take along any other memorabilia.   A Kitchen Party is another event that evening in the gym.  It will be hosted by Comedian Peter White (class of '03).
Saturday, July 20th will be another exciting day.  The school will be open from 11 a.m. until 5 p.m. for folks to stroll through the building and reminisce about their memories of the school.  On an outside stage there will be live entertainment featuring past graduates.  Jon Raven, Scott DeCoste, Pat Walsh, Rod Walsh and friends as well as Caleb MacIvor and his band, the East River Rats.   This is a family event which will include games for children, food trucks, a backdrop for photos, and lots of memorabilia items for sale such as caps, t-shirts, golf shirts, water bottles and photos of the school.   Commemorative books and merchandise will be available at the MacLeod/Lorway office on Friday afternoons from 1 to 4 p.m. Commemorative books are also available from Sueann Musick at the Municipality of Pictou County at 902-485-2238 until July 19th.  
The official closing ceremony will take place at 4 p.m. at the school, but the fun is not over.  Action shifts to the Ivor MacDonald Memorial Rink for a wind-up dance. It will feature the East River Rats as an opening act and Rawlin's Cross as the main band.  This will run from 8:30 p.m. until 1a.m.
Tickets are being sold online for the various events and organizers anticipate at least some of the events selling out very soon.  To purchase your tickets, go to hhtp://bookeo/eprhtogetherforever   There is no charge for the open house on Saturday. 
An open invitation to all people who attended the school as students, teachers, custodians, bus drivers is warmly extended.  For further information visit us on face book, EPRH Together Forever or contact Don Butler at butlerdon@live.ca