Free Admission on Heritage Day February 18, 2019 at the Museum of Industry, Stellarton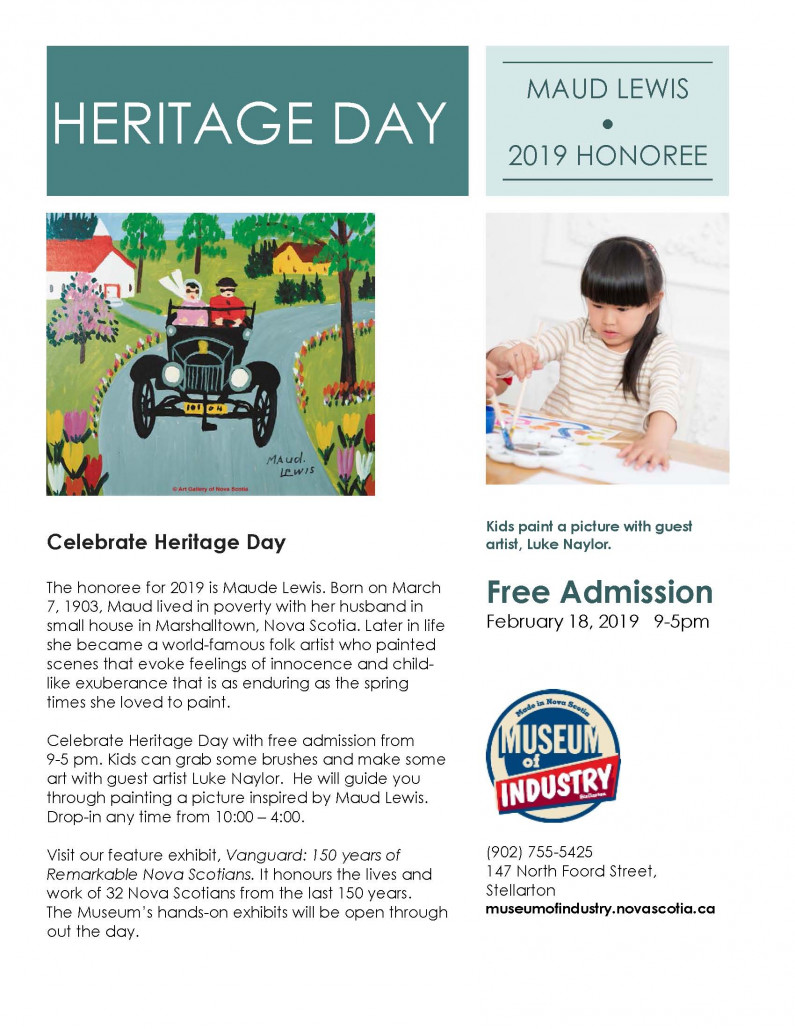 The honoree for 2019 is Maude Lewis. Born on March 7, 1903, Maud lived in poverty with her husband in small house in Marshalltown, Nova Scotia. Later in life she became a world-famous folk artist who painted scenes that evoke feelings of innocence and child-like exuberance that is as enduring as the spring times she loved to paint. 
 On Heritage Day, kids can grab some brushes and make some art with guest artist Luke Naylor. Luke, Pictou County native graduated from NSCAD University with a BFA 2000 with a major in Fine Art.  Luke has participated in many solo and group shows in various galleries including the Art Gallery of Nova Scotia and Argyle Fine Art.  Currently Luke continues to paint and works as a digital and social media strategist in Halifax, NS. 
He will guide you through painting a picture inspired by Maud Lewis. Drop-in any time from 10:00 – 4:00.
Visit our feature exhibit, Vanguard: 150 years ofRemarkable Nova Scotians. It honours the lives and work of 32 Nova Scotians from the last 150 years.
The Museum's hands-on exhibits will be open through out the day.