From Black Point to Boston: Official Tree for Boston cutting ceremony held Wednesday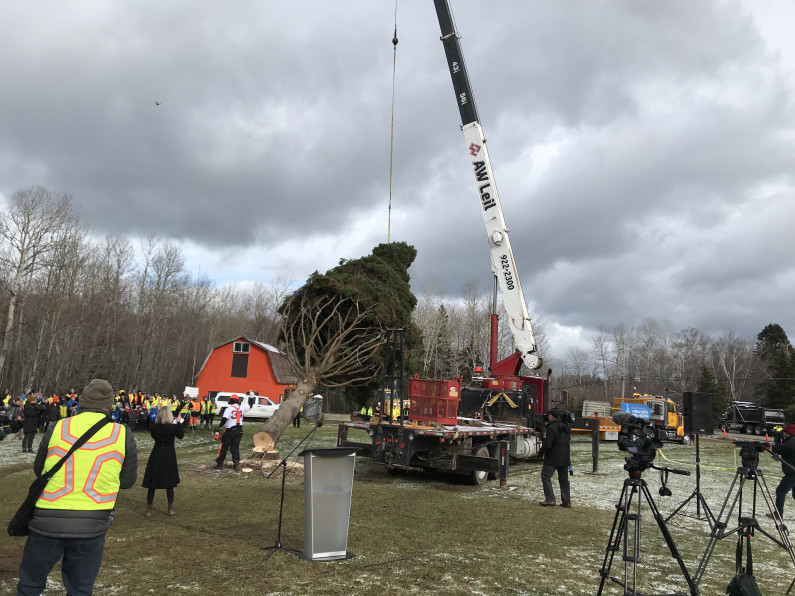 Black Point, Pictou County – A 60 ft, the 45-year-old white spruce tree is down and will soon be making its way to Boston.
The tree, owned by Desmond Waithe and Corina Saunders of Black Point, Pictou County was designed as the Tree for Boston this year and the official cutting took place Wednesday with government officials, residents, school children and representatives from Pictou Landing First Nations on hand for the ceremony.
The Tree for Boston is an annual gift to the city of Boston from Nova Scotia to thank them for their efforts following the Halifax Explosion in 1917. Boston sent medical personnel and supplies after 2000 people were killed and hundreds more affected by the explosion.
"It is an annual tradition that recognizes gratitude and friendship. It represents the strong ties that represent Nova Scotia and the City of Boston," said Lands and Forestry Minister Iain Rankin.
The ceremony was opened by New Glasgow Town Crier Jim Stewart followed by comments from Mr. Rankin and Mr. Waithe, as well as words from representatives of forestry and Boston Parks. In addition to this tree, forestry companies also send other smaller sized trees to Boston schools and charities.
Pictou Landing First Nations Elder Ralph Francis did a smudging ceremony with the tree followed by prayer while he Frank H. MacDonald School Choir and Pictou Landing First Nations Elementary School students sang Christmas songs.
Students with the Nova Scotia Community College's forestry technician program in Port Hawkesbury did the honour of cutting down the tree.
"It is our honour to have this in Boston Common, America's first park, and I hope we do it justice for you. It will have 6,000 lights strung on it in the next coming week," said Ryan Woods, Commissioner of Boston Parks and Recreation. "The people of Nova Scotia have never forgotten the aid that Boston gave, and we will never forget this annual gift that you give. It is all about friendship and in today's world and everything that is going on, that is the main message."
The Tree for Boston will have its official send-off on Friday at noon at the Grand Parade in Halifax and the tree lighting ceremony in Boston will take place on Dec. 5 at 7 p.m. at the Boston Common, 102 years today of the explosion.
Follow the tree's journey on Twitter, Facebook, and Instagram at https://twitter.com/treeforboston