On the Right Path: Cape to Cape Trails hosting information session March 2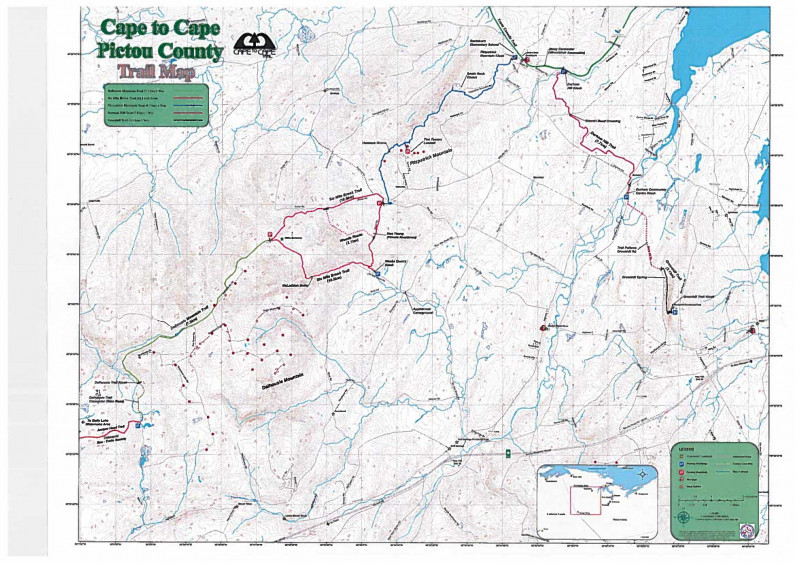 SCOTSBURN, NS – Members of Cape to Cape Trails is hosting a public meeting Saturday, March 2 at 9:30 a.m. at the Scotsburn Fire Hall that will highlight work being done on the trail system, followed by a presentation by Nova Scotian renowned hiker Bill Monk who walked the Appalachian Trail in 142 days.
"We want people to understand what the big vision is and at the same time, know there are a lot of nice trails around that they could be using," said Cape to Cape Member Elaine Falconer.  "It is for trail awareness, to promote hiking and to let them know there are many kinds of hikers.  It is about letting people know we have match for you." 
There are distance and speed hikers, relaxed pace hikers, those who love nature walks and those who love taking pictures as they go, and long distance or "Thru" hikers like Whistler. The group is encouraging people to come to the meeting and meet their match.   Falling in line with a co-hiker whose pace matches yours is a great way to meet a new hiking friend.
The new trail signage and the Cape to Cape Pictou County map are a source of pride that the group is eager to share.  The long-term goal is to have an Appalachian style trail (400km long, 18 inches wide) stretch from Cape George, Antigonish County, to Cape Chignecto in Cumberland County.  
"I think hiking is calming," said Falconer. "You are on terrain and your next thought is where am I going to put my foot next."
Monk will be promoting his new book, Whistlers Walk, which details this amazing walk - his triumphs, tribulations, the folks he met and the personal journey that had as many ups and downs as the trail he walked. He will also talk about his plans to hike the Pacific Crest Trail.
No boring slides for this guy – he will keep everyone interested and entertained as he speaks about his adventure. His preparations, what he learned, places visited, hikers befriended, communications used, equipment troubles; all while hiking sometimes 28 miles per day for over 2000 miles from Georgia all the way to Maine. Many walkers and hikers from across the province will be awed and entertained by stories of the Appalachian Trail.
At Noon, participants will have lunch which they can bring themselves or have a nutritious meal at Deb's Hidden Café (call ahead for lunch orders 902-382-3444). The Scotsburn Fire Department will provide tea, coffee, and water. At 1 pm, the day will end with a hike.  
Cost is $10/person. $5/student and bring hiking boots or snowshoes if needed.  Everyone welcome.