Lights, Camera, Action: Lismore Dinner Theatre takes place March 8, 9 and 10th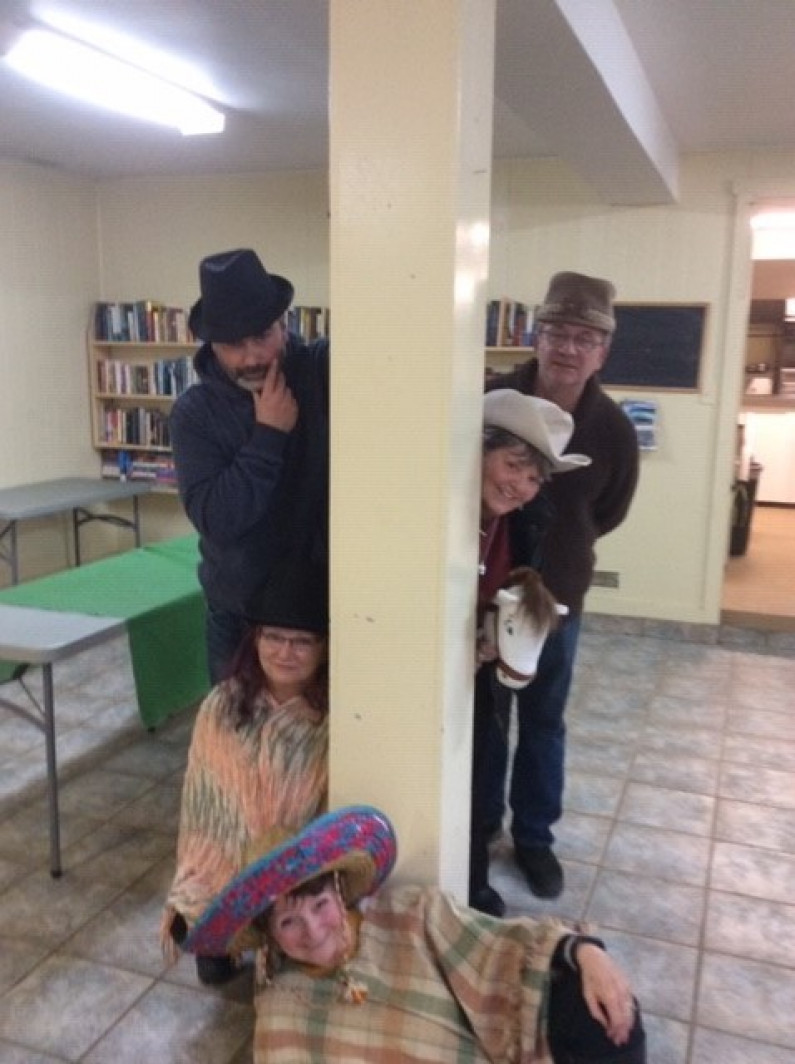 Perhaps one of the most successful dinner theatre groups ever to perform in Pictou County will present their 22nd annual production on March 8th, 9th and 10th at the Lismore Hall. Tickets to the popular event will go on sale at the Lismore Hall on Saturday, February 16th from 10:00 am until 12 noon.  Tickets go very quickly, so the word on the street is to get your tickets early. Pictured are some of the cast members. Jarrett Kinney. Steve Guthrie, Carolyn MacKay, Faye Kinney and Kippy MacDonald.
LISMORE, NS –   If laughter is the best medicine for the winter blues then the community of Lismore has the perfect dosage.   
The upcoming Lismore Dinner Theatre will take place March 8,9 and 10th at the Lismore Community Hall with tickets going on sale Saturday, Feb. 16 from 10 a.m. to Noon at the hall. 
District One Coun. Don Butler, who is also the playwright of the dinner theatre, said people shouldn't wait to the last minute to purchase their tickets for this popular event.
"There is an older chap from the community who waits in the parking lot at 4 a.m. every year on the day we sell the tickets so that he can be first in line," he said.  Tickets must be purchased in person on Feb. 16 and there are often people placed on waiting lists.
Butler started the Lismore Dinner Theatre 22 years ago as a fundraiser for the hall.  The first show featured a one-act play and Irish Stew was served as the meal.
"It went from a one night to a two-night production to three nights.  Our expectations weren't that great the first night we held it, but we had 90 tickets for the first show, and we sold out. Now we are selling over three nights and we are selling about 420 tickets. They sell out quickly.  Last year, the ticket sale was three weeks before the shows and within two days the tickets were gone."
Butler starts writing the skits in the fall and collaborates with musical director Vivi Chediac about the music for the dinner theatre. 
"The skits reflect topics of interest to people," he said. "They are timely topics."
This year's topics will hit on United States President Donald Trump and the new Cannabis Marijuana Legislation.
Butler said in the past there have been skits about local events or people, but now he writes about much more broader topics.
 "We do a bit, but we try not to make it so local that people from outside of the community don't know who we are talking about. "
Butler said there are always new people at the show each year who either come with friends who attended in the past or hear about the show from others in the community.
"There are people who come back every year and often times take their friends," he said.   "Often we hear, 'this was the best' and it is nice to hear them say that.  We probably get more of a mature audience, but it is for all ages."
He said he is always impressed by the crowd that the show draws on yearly basis.
"As we look at entertainment in the County, so many times rural people drawn to urban centres to be entertained and this is one instance where the reverse is strong. People in the towns are coming out to the county to be entertained."
Butler said the dinner theatre also brings the community together in many other ways because it takes about 40 volunteers each night to host such an event.
"It takes a tremendous amount of volunteers to pull it off over three nights," he said. "Some people come and work at it and get to see show that way. There is usually no problem to get people lined up to work whether preparing vegetables, setting up, serving or cleaning up afterwards."
Showtimes will be March 8 and 9 at 7 p.m. and March 10 at 4p.m.  The meal is a roast beef dinner. 
For more information, contact Don Butler at 902-926-2589.