Lismore's First Seniors' Lunch and Learn Focuses on Homelessness in Pictou County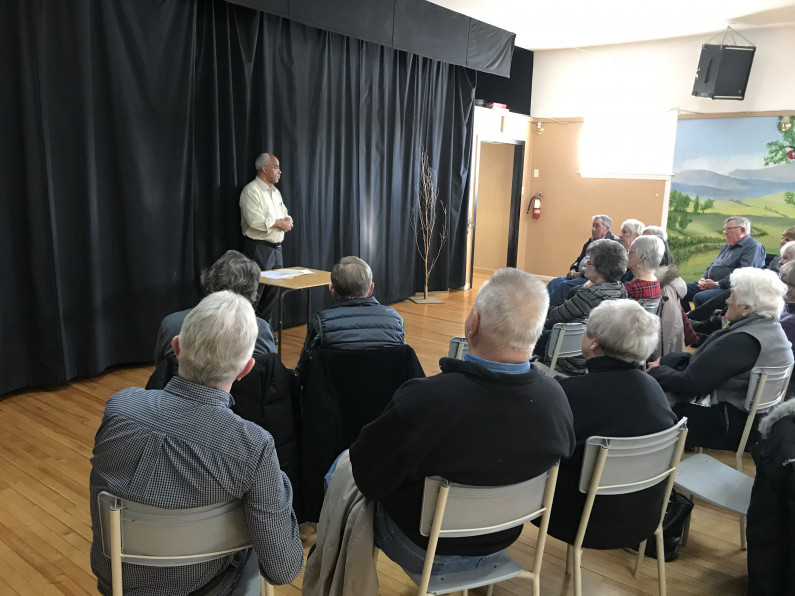 LISMORE, N.S. - Brian Bowden will probably never forget the first client to walk through the doors of Viola's Place when it opened in October 2018.
"It was a 70-year-old man who had an alcohol problem. He came and dried out and we were able to see he got back to Ontario with his daughter," said Bowden who is currently board president of Viola's Place Society which runs the homeless shelter in New Glasgow. "He called us back a few months after he arrived in Ontario said he was doing fine and thanked us for all the services we had done for him."
Bowden was the guest speaker at a recent seniors' lunch and learn in Lismore where he updated those in attendance about the shelter's work over the past two years.
Since this night in October 2018, the shelter has been steadily filling its eight emergency beds for men and women over the age of 24. Anyone needing services between the ages of 16-23 are referred to Roots for Youth. The shelter is open from 630 p.m. to 10 a.m. each day under the direction of a hired manager who works with various community groups and housing providers with a goal of getting people off the streets and into affordable housing.
"For the first year, we had 130 clients and we were able to see that 35 received housing," he said. "It is a long way from where we started in just one year. There is a need for the shelter in Pictou County and we are glad to be of service. People come from various parts of the province and we get people who come in by police. The Mounties came to our door about 1130 p.m. that first night and he needed a place. We opened our doors and we have been busy ever since."
He said clients leave the shelter when it is closed during the day and have the option of taking a bag lunch with them or a Tim Horton's card. The maximum stay for clients is 30 days which allows the shelter's manager to work with them to help find them housing and other services they might need to start over.
"Clients come from different age groups. We have people with addictions, alcoholism, mental health. We have all these things coming in which is why we need the manager who can work with them and help them connect with different agencies that are out there for them. "
Bowden admits there have been many learning curves for the board of directors in getting the shelter opened and operating smoothly. He said the board visited other shelters to get an idea of how things should operate as well as the community to purchase the building and get it open.
"This is a community building and it is built by community support. It is not our building; it is the community buildings. We have received money from churches, organizations, towns and the County to purchase the building. It took a lot of volunteers to clean the building, set it up and have it a shelter again."
He said a lot of volunteers have come and gone as well, but right now it has a good core group that is dedicated to seeing the shelter be successful. In addition to hiring a manager, it also hired a nighttime person who works from 11:30 p.m. to 6:30 a.m. five days a week since it was too difficult to find volunteers to fill this shift on a regular basis.
He said there is always a need for new volunteers who receive on the job training from the shelter manager and are never put on a shift until they feel they are ready to work. Bowden said there are rules and regulations for both the volunteers and the clients to follow while they are at the shelter which is designed to keep everyone safe.
"One thing about running a shelter is you need rules and regulations. When clients come to the door, they must sign a sheet, give information, agree to rules and regulations in place. We are a dry shelter and if they do come in and are inebriated, we will let them come in and sleep if off. If there is any disturbance, we have police at our disposal. Our key to our success is safety to our clients and our volunteers. If they are not willing to sign these forms, we ask them to leave. Volunteers also have a code of conduct and rules and regulations they must follow. They must also have police check and vulnerable person check."
Anyone interested in volunteering or donating the shelter can do so by contacting the shelter manager at 902-752-0550 or by email at violasplacesociety@gmail.com He said monetary donations or gift cards from local grocery stores or Tim Hortons are most needed. The Society just received its federal charitable status so receipts can be issued for donations over a certain amount. If the shelter is need of emergency supplies, they will also be listed on the society's website at violasplacesociety.com.
Participants at the seniors' lunch and learn also agreed to have a donation bucket available at its sessions over the next eight-week to collect funds for Viola's Place Society.
"There are a lot of people who are just one cheque away from being homeless," Bowden said. "There is a need for this service. They are on the street and some people don't want to be in confined spaces, but there is a need and we take it as it comes."