Lorne Couple keep family tradition of wild blueberry harvesting alive and well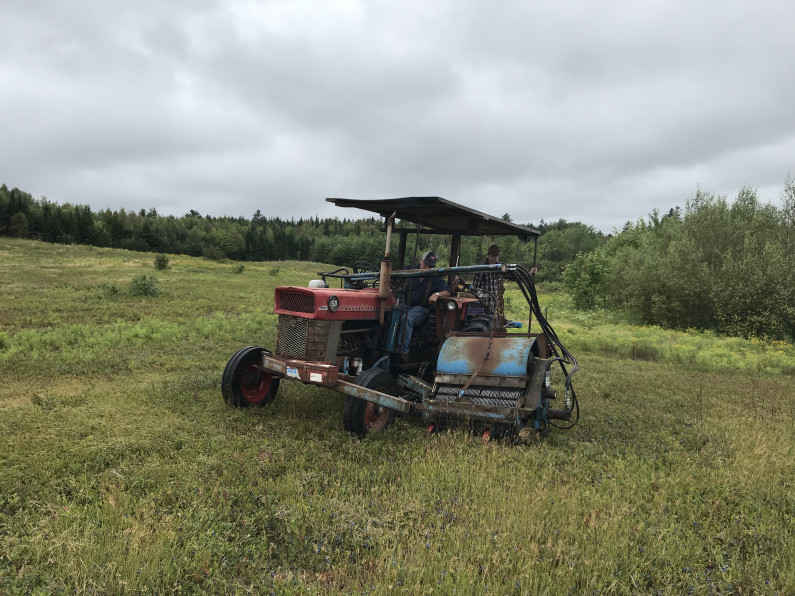 Kim Fraser works in the field harvesting wild blueberries.  
LORNE, PICTOU COUNTY - Kim and Dawn Fraser have been harvesting wild blueberries near their home in Lorne for the past 20 years and show no signs of slowing down.
Sure, the couple say if the right person or larger harvester came around and wanted to expand their fields, they would consider an offer, but until that day comes, it is business as usual at the Fraser farm.
The wild blueberry season has a small window for harvesting which means the Frasers are close to wrapping it up for another year.
Dawson MacDonald helps Kim Fraser with the harvest. 
This year, Kim started harvesting the fields for their commercial buyer about a week ago and Dawn has been busy taking local orders as well as cleaning and boxing berries.   Harvesting blueberries goes back generations in Dawn's family and when her father was ready to retire, he sold his fields to she and Kim who continue to keep the family business alive.
The hardship doesn't seem too real for Kim as he jumps on his harvester in a field overlooking the beautiful countryside of Lorne.   He has Dawson MacDonald working with him for the harvest season and doing other work in the fields before and after the harvesting is completed. 
Like any agricultural business, there are challenges.  If there was more rain this summer, the wild blueberries would be bigger and juicier. Wild animals such as deer, coyotes and bear also love to graze on the berries when no one is looking.
"You can walk through the field near the tree line and see patches they have eaten. The deer think they own the fields and the coyotes will be laying down eating the berries," said Dawn as she laughs.   "The animals love them as well and we can't chase them all away."
She said there are also concerns about the disease blight that can damage entire fields or late frost in June that will impact the growing season later in the summer.   There have also been years where the market price for the berries was so low that it wasn't worth the cost and time to harvest them commercially. 
Dawn Fraser has boxes of wild blueberries ready for delivery.  The Frasers sell their product to a commercial buyer but keep some themselves to sell to family and friends. 
The Frasers say better marketing is needed to grow the wild blueberry industry.  Considering they are only grown in eastern Canada and Maine, they should be a hot commodity in the marketplace, but instead, few people outside of these areas don't even know they exist.
"If we can get fresh fruit in from the Dominican, strawberries from California and product from Spain, why can't we get this, even through a small market, across Canada?" asked Dawn.
Gemini Campbell gives the thumbs up to a box of wild blueberries cleaned and ready for sale to local merchants. 
Dawn said they are fortunate to sell locally to Stirlings in Blue Acres and John's Canteen in West River in addition to loyal family and friends who come their home to purchase the five pound boxes, but they want to see the industry itself do a better job of letting people know about the goodness of the berries.
All in all, the Frasers are happy with this year's crop of berries so far. Wild blueberries are never planted but rather grow on a vine in the ground that sets its own course rather than being told where to go.  Work on the fields begins in the spring with spraying followed by harvesting from the middle of August to the middle of September.  This is followed by more maintenance work in the fall to prepare the crops for the next growing season.  Once a field is picked, it won't be harvested again for two years.
"And it all has to be done in the time of year when you want to be doing other things," said Kim who is self-employed in another profession other than harvesting berries. 
Dawn Fraser shows how wild blueberries were racked by hand when she was a child. 
Dawn remembers as a child working for weeks in the fields with her family harvesting wild blueberries by hand, so the addition of harvesters and mechanical cleaners has made things run quicker and a little smoother.
"It has changed a lot over the years," said Dawn, adding larger commercial harvesters can do a lot more work than they get done in a day. "When you see the bigger industries and see us, we are small time, but we are okay with that. "
She said they considered expanding about 10 years ago, but said it was too much work all year for such a short season.  She is hopeful now that as the next generation takes more of an interest in organic foods, local products and climate change, that the interest in farming in general might improve.
"It isn't an easy industry to be in, but for me this part is fulfilling," said Dawn. "I feel we are helping people eat better with local product when it is in season."