MOPC celebrates African Heritage Month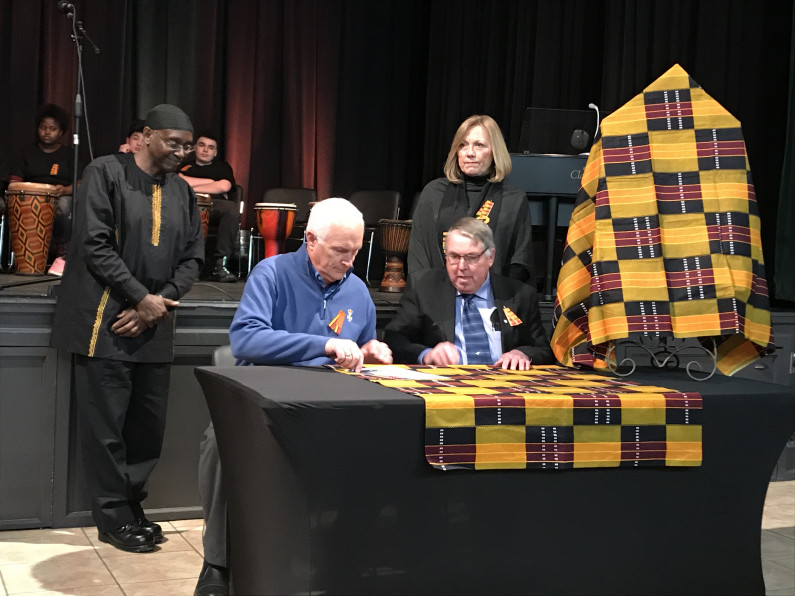 Municipality of Pictou County Warden Robert Parker attended the Town of New Glasgow's African Heritage Month celebrations Tuesday at Glasgow Square. The ceremony included guest speakers, a proclamation signing and the unveiling of the 2020 African Heritage Month poster. There was also a musical performance by the North Nova Education Centre African NS Drummers and readings by NNEC students.
The Municipality of Pictou County will be hosting its own flag raising in honour of African Heritage Month on Wednesday at 1230 p.m. at its Administration Building at 46 Municipal Drive, Pictou.
Other activities taking place this month include:
Feb. 4-28: A Walk Through Africville" is an 800 square foot travelling exhibit that allows the audience to experience the hidden gems that made the historical community of Africville.
"A Walk Through Africville" (2020) uses some of the content featured in "Africville: A Spirit That Lives On" (1989) and builds on the themes developed in that earlier exhibition: home, work, religion, and community in the lives of the people of Africville. The exhibit is from the Africville Museum.
Feb. 5, 9 a.m.: Flag Raising in the commons of the Nova Scotia Community College, Stellarton.
Feb. 8, 10:30 a.m. African Storytelling Workshop with the Maritime Centre for African Dance.
Feb. 19, 6:30 p.m.: "Remember Africville", Presentation of the NFB Film Club at the New Glasgow Library
March 7, 7:30 p.m. Trivia Night, with Gene Mills at Glasgow Square Theatre