Murray Family Tree Book presented to Coun. Peter Boyles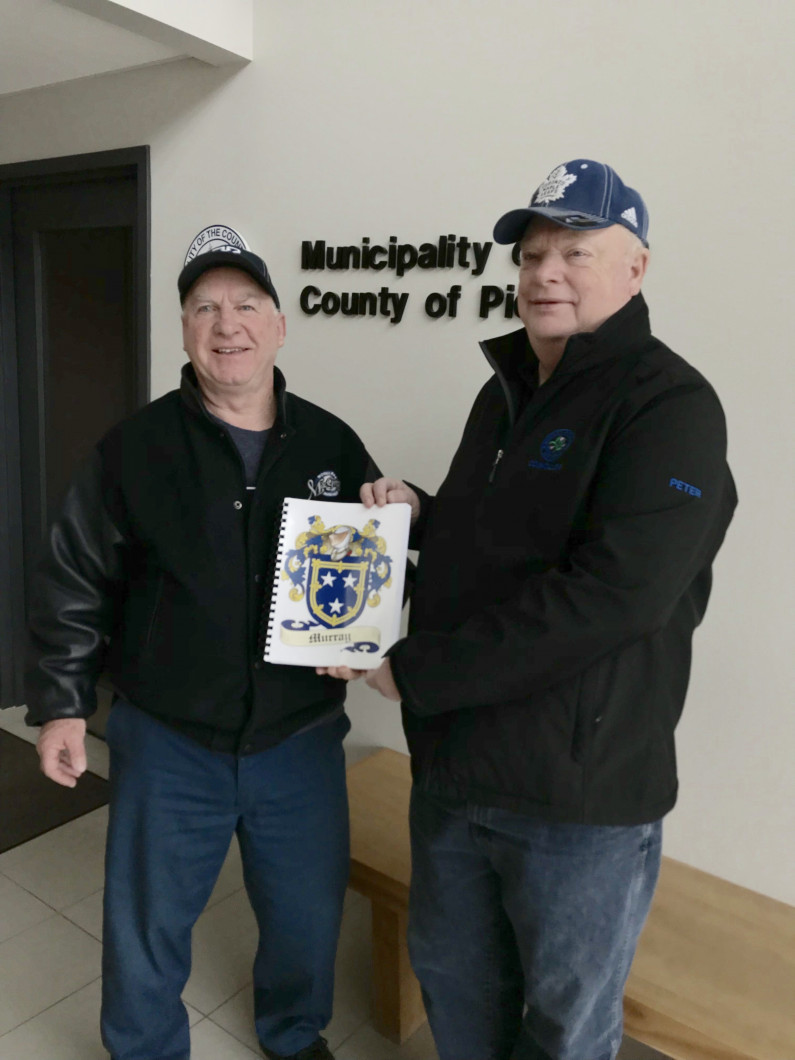 PICTOU, NS  -  It all started with Maria and Adam.
Well not really, but this is what peaked Corey Hartling's interest in the Murray family tree and led to research that included the historic birth of the Murray Quintuplets and their parents.   
The Municipality of Pictou County recently held a commemoration service to honour the birth of the Murray Quintuplets born to Maria and Adam Murray in 1880 in Hillside, Pictou County.  A plaque was unveiled in Council Chambers during the ceremony that is now hung in the foyer of the Municipality's Administration Building.  The ceremony was well attended by descendants of the Murray quintuplets who travelled from around the province to be part of the unveiling.  
Hartling said the quint's parents Maria and Adam were his focus point, but this led to a wealth of information in the book that begins with Hector Murray who was born in Scotland in 1763 and married Sophia Nightingale.   They came to Nova Scotia and settled in Barney's River where they raised their nine children.
 "It starts with Hector and continues on to present day," he said, adding he gets his information from reliable sources such as the Census, and Internet sites that keep track of death certificates, marriage licences, vital statistics, etc. 
Hartling said he does the research as a hobby and is planning to turn the book over to the Murray family who can make as many copies as they wish in the future. 
He recently presented his book to Municipality of Pictou County District 9 Coun. Peter Boyles who will have it on display when a new community centre is built in the Hillside area.
Anyone wanting more information about the Murray family book can contact Hartling at 902-755-3254.