District One Fitness Challenge begins Nov. 24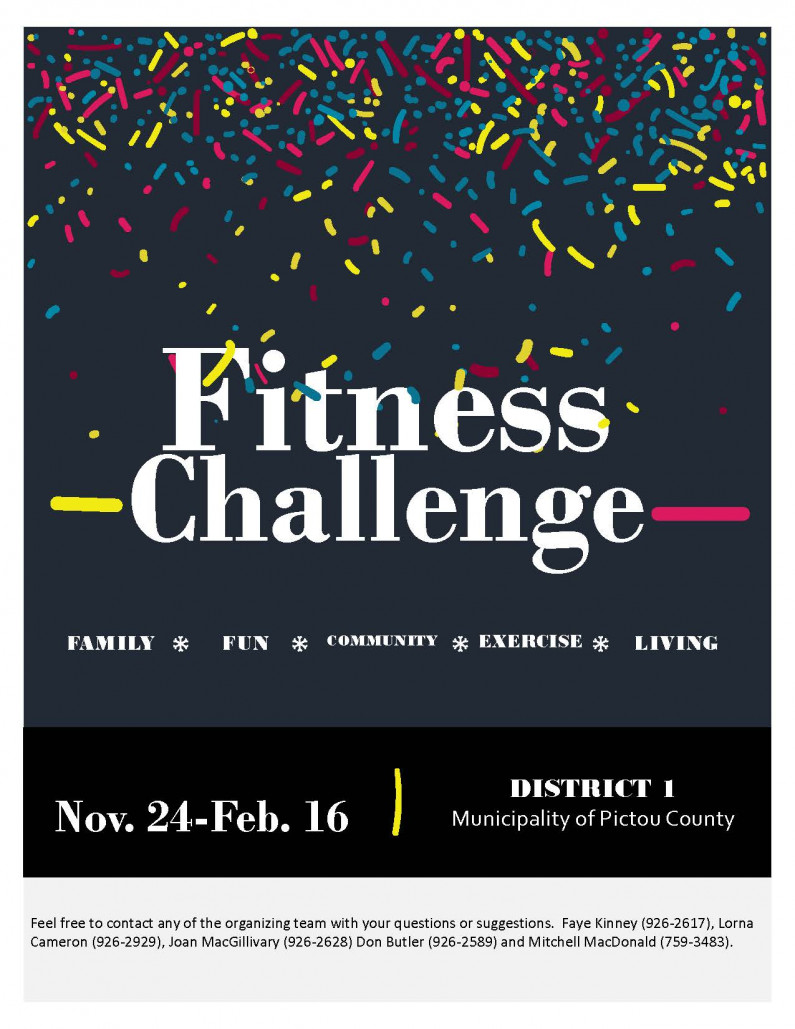 District One is at it again.
It's 10th Annual Fitness Challenge will take place Nov. 24, 2019 to Feb. 16, 2020.  
"What started as a modest goal to accumulate 6,000 km, - enough to get us to the 2010 Olympic Games in Vancouver now sees up setting a goal of 45,000 kms to get us to Tokyo and back for the 2020 Summer Games," said District One Coun. Don Butler.  "Our numbers of participants have increased every year to where we had over one hundred people participating last year from every corner of District One.    We are looking for even greater numbers this year. WE WANT YOU ON OUR TEAM!!  We want people to be more physically active at a time of the year when it is easy to stay bundled up, indoors, close to the fire."
How can I accumulate kms? Well, for every hour of physical activity you log, that equals 2km. Some examples of activities include school sports, rug hooking, art classes and knitting.  For those who walk, jog or run, every km you cover equals one km on your log sheet.  For aerobic activities (yoga, swimming, basketball, hockey, etc) one hour equals 5 kms.
How do I track my kms?  Put your tally sheet on your fridge.  That way you will be encouraged to make daily entries.  You will be contacted by your team captain on December 14th, January 4th and January 25th for your latest totals.  Feel free to contact any of the organizing team with your questions or suggestions.  Faye Kinney (926-2617), Lorna Cameron (926-2929), Joan MacGillivary (926-2628) Donnie Butler (926-2589) and Mitchell MacDonald (759-3483).
We plan to have a tally sheet in prominent locations throughout the district which will provide an update on how well we are doing during the challenge.
When is the official kick off?  It will take place at the Lismore hall on Sunday, November 24th 1:00 pm. We will have hot chocolate and take a three km. walk down to the beach and back, just to get us started. Please feel free to join us in the hall and take along a friend.
Several events will be planned over the 70 days of the challenge in the district.  Watch this newsletter and face book for updates.
Save the date for the official closing. On Sunday, February 16th, 2:00 p.m. we will come together with our tally sheets at the Lismore hall and hopefully, once again meet or exceed our goal.  Together, we can achieve great things and be healthier, both mentally and physically, because of participating.  There will be prizes for everyone who attends, and we all are asked to contribute to the potluck supper.