The Comforts of Community Kindness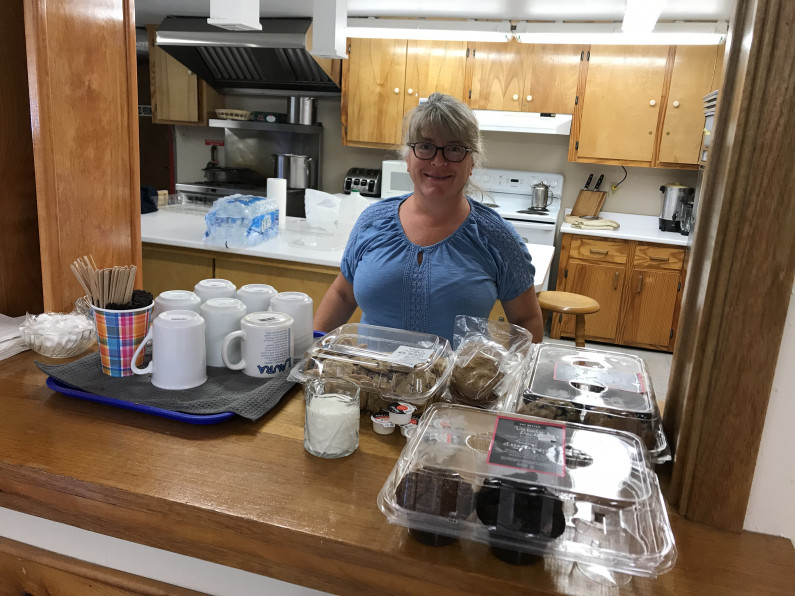 Lynn Cameron of the Otter Road in Caribou takes a turn volunteering Friday at the Comfort Centre set up at the Caribou Fire Department.
CARIBOU, NS – In addition to providing basic needs, comfort centres seem to bring out the best in rural Pictou County neighbourhoods.
Coun. Darla MacKeil witnessed this firsthand this past week when power went out for a long stretch in District 3.
"The amount of people who reached out to me to offer to come and volunteer, offer freezer space, hot meals, whatever anyone needed, has been unreal," she said Friday.  "I have been receiving calls from residents offering so much assistance.  I said before there have been so many random acts of kindness in our community, even though I already knew we lived in an amazing community with great people, that it still makes my heart full. "
The Caribou Fire Department first opened its doors as a comfort centre on Sunday and has remained open every afternoon from 1-4 p.m. until Friday.    MacKeil said it was decided it would open its doors if the needed warranted even before Hurricane Dorian hit on Saturday.
MacKeil and the fire department worked with the Regional Emergency Management Organization – Pictou County which also worked with other departments and community centers in the County to open centres if needed.
REMO Coordinator John Davison said the location of the comfort centres is determined by many things, including if a hall has power or a generator, volunteers and if the roads are good enough for the people to reach the centre.
"We open comfort centres when it is safe, "he said. "If a community has a whole bunch of trees down and wires hanging, people should stay in their homes."
Following Hurricane Dorian, centres were opened in West Branch, River John, Caribou, Little Harbour and Pictou Landing for different periods of time.
Most comfort centres offer water for flushing, a hot drink, bottled water and places for people to charge their electronics.   Some had gotten creative such as the West River Hall and had a jam session one evening so people could enjoy some social time which was good for their mental wellness.
The Little Harbour Fire Department allowed people to use the taps and plugs outside of its fire hall when its centre wasn't open so people could have access to water and electricity anytime of the day.  
The Caribou centre benefitted from the generosity of local businesses when Red's Chip Wagon offered to cook up fries, burgers and hot dogs free of charge.  Harold Ferguson donated 10 pounds of ground beef, Red's donated the potatoes for the fries and Sobeys donated buns and some bakery goods.
"We had a lot of people through our centre that day," said MacKeil. "It was absolutely free, and people were so kind to donate."
She said not everyone takes advantage of comfort centres because they think they will wait out the power outage or it is for others in need and not them.
"It is for everyone and we wish more people would take advantage of that," she said.

Davison said Hurricane Dorian has given Pictou County one of the longest power outages on record, but he credits people with being more storm savvy than in the past.
He said more and more people are getting generators and are preparing for 72 hours of possible power outages when they hear a storm is coming.   He said Pictou County was fortunate that this storm happened when the weather was still warm, and most people could stay in their homes until the power came back.
"If this was the winter months and subzero temperatures, we would have had to set up shelters and give people a place to get out and stay warm," Davison said.