New Signage for Roy Island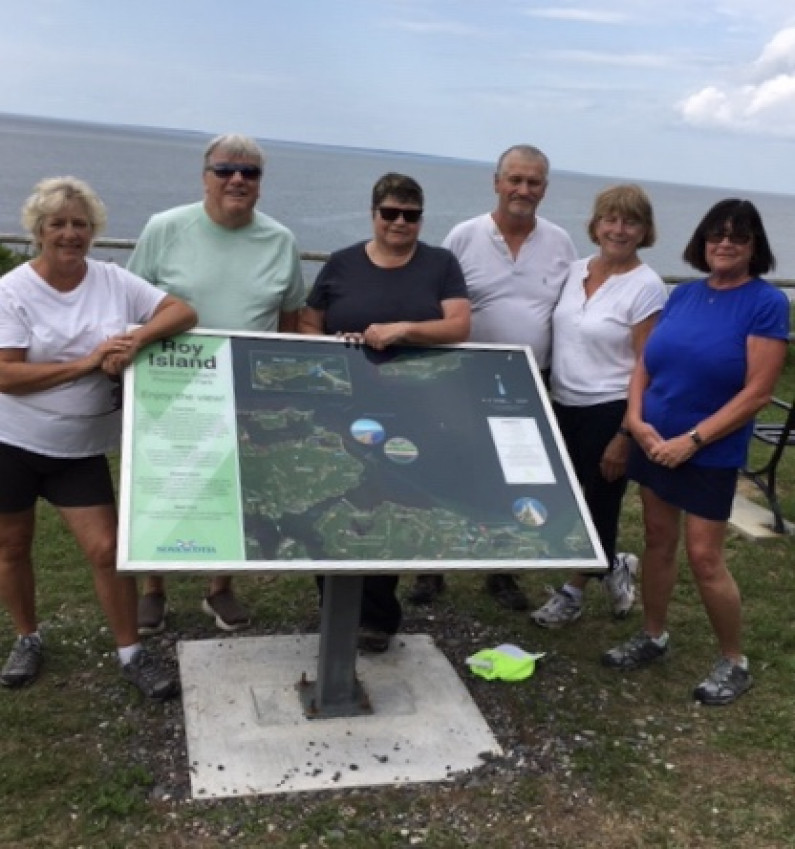 Here in the photo, left to right, are members of the Little Harbour Walking and Bicycling Society: Patsi Blaikie, past president; George Cochrane, vice president; Bonny MacLean, president; John Baldwin, director; Nancy Baldwin, secretary-treasurer; Debi Wadden, Municipal Councillor District 2.  Missing from photo are Royce Williston, director and Erin Wadden, director.
MELMERBY, NS - The Little Harbour Walking and Bicycling Trail Society recently unveiled a new sign at the look off at Roy Island showing various points of interest that can be seen from the look off.
The society received municipal grant funding to purchase the sign which was installed by Department of Natural Resources employees Tom Rundle, chief caretaker at Melmerby Beach and Buddy Langille, caretaker at Melmerby Beach.
The popular look off can be accessed by driving to the last boardwalk at Melmerby Beach, closest to Roy Island, and then entering the trail through an orange gate that is in place to keep out motorized vehicles. The walk from the beach to the look off is about two and half kilometres and is open to walkers, runners and cyclists 12 months a year.
Bonnie MacLean, president of the Little Harbour Walking and Bicycling
Trail Society said the trail and look off is the "best little gem" in Pictou East.   It is well maintained by the Department of Natural Resources; the walking path is flat and graveled for most of the way except for the last little trek to the look off.  There are benches at the look off for people to rest and the new sign will be a welcome addition to the site.
She said there is always plenty of wildlife on the trail including birds, foxes, deer and rabbits and people have always been respectful of the area in terms of taking their garbage home with them.
Here, Patsi Blaikie, past president of the Little Harbour Walking and Bicycling Trail Society, is seen pointing north toward Pictou Island.  
The look off itself offers beautiful views of the Northumberland Strait including Pictou Island and Caribou Harbour. 
This year, the society will be receiving an additional $3,000 in grant money from the Municipality of Pictou County that it will use to purchase new composite benches for the look off and place the metal benches currently there, along the trail.