25th Anniversary: Alma Ladies Auxilary carries on the tradition of hosting Christmas Bazaar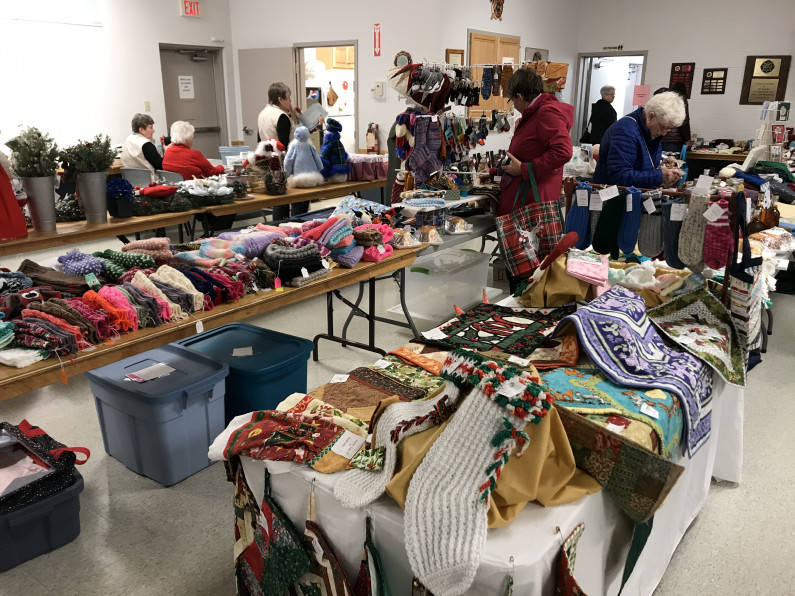 25th Anniversary: Alma Ladies Auxilary carries on the tradition of hosting Christmas Bazaar
ALMA – It is a beehive of activity at the Alma Fire Hall.
The Ladies Auxiliary is hosting its 25th Annual Christmas Bazaar Friday and Saturday. To any visitor, things seem to be running like clockwork, but behind the scenes, the auxiliary volunteers know how much work it takes to host such an event.
With the holidays fast approaching, the fall is a busy time of year anyway for most. Still, for volunteers with the auxiliary, things ramp up considerably as they concentrate on getting the bazaar done again for another year.
Letters to vendors start going out in October to determine who is available for the bazaar, and the planning continues until this past Tuesday when the fire department and auxiliary members set up tables for vendors to come in on Wednesday.
"We are down a lot in vendor numbers compared to when we first started 25 years ago," said past auxiliary president Karen Sutherland. "We had around 60, but now between 30 and 40. Some people work, some people passed away, and there are so many more craft fairs."
She said the bazaar also used to operate Friday, Saturday, and Sunday as well, but when Sunday shopping was introduced into the province, they scaled it back to Friday and Saturday.
"Sunday was basically for people who worked on Friday or Saturday and couldn't get here," she said. "It was a quieter day, and we didn't open until after church as finished."
Sutherland said about 10 of the vendors at this show have been coming every year, and the type of items being sold have changed over time. In the beginning, there were a lot of ceramics, but now people like to craft with reclaimed wood. Other items for sale include baked goods, preserves, quilted and knitted items as well as other decorative crafts.
Money raised from this sale and another large auxiliary fundraiser hosted earlier in the fall goes to the fire department to help with the purchase of new turnout gear for its members.
"A lot of people don't realize how much it cost to outfit a firefighter," said current auxiliary president Karen MacDonald. "We are very fortunate here and have almost a full complement of firefighters and juniors, and they were coming along, and eventually, they will need their gear."
During the last two annual general meetings, the auxiliary was able to present the fire department with a cheque for $13,000 as a result of its fundraising initiatives.
"Turnout gear doesn't last forever and must be replaced after so many years. I wish more people would come to the AGM and find out exactly what it all costs," said MacDonald.
Sutherland said the auxiliary was able to do more events in the past, such as catering, host a spring yard sale, and having a baked beans fundraiser, but with only eight members, compared to the 17 when it first started in 1982, it is more challenging to get things done.
"I think everyone is in the same boat as far as recruitment goes, but there are still those people who are passionate about their community," said MacDonald.
MacDonald has been a member of the auxiliary for 10 years, following in her mother's footsteps, who was a member for 50 years. Sutherland has been a member for 33 years in Alma and was a volunteer in East River Valley before joining Alma. They said another woman in auxiliary will be turning 90 who has no ties to the Alma department but wanted to get out and volunteer.
They say they also have the support of the community behind them, and when the call is put out for some baking or other assistance, it is usually answered with a good response.
"We keep saying this will probably be the last (Christmas bazaar), and then we get through it and say maybe we can try again," said Sutherland.
The Christmas Bazaar takes place Friday until 6 p.m. and Saturday from 9 a.m. to 5 p.m. at the Alma Fire Hall. $2 admission.