PC Municipalities Crime Prevention focuses on education and awareness to keep residents safe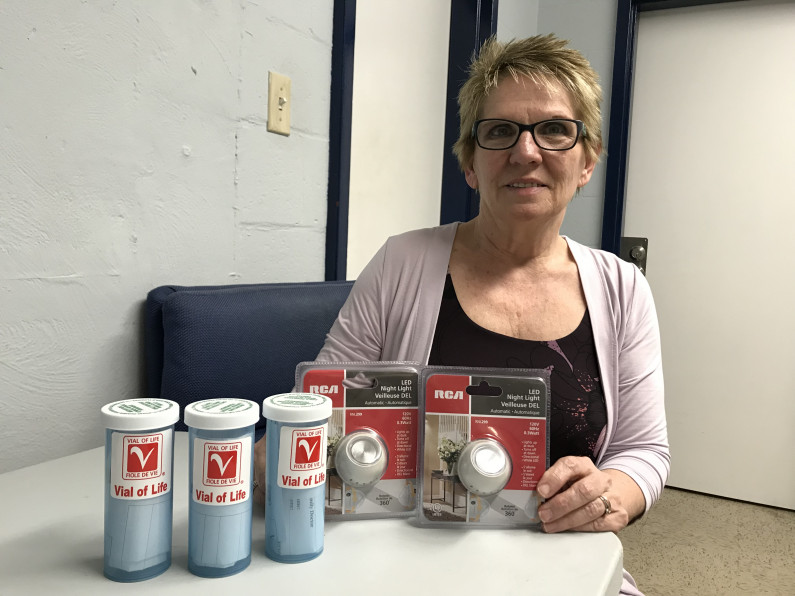 Barb Smith, coordinator of Pictou County Municipalities Crime Prevention, holds a Vile of Life that allows residents to keep their medical information in the fridge so emergency personnel know where to find it if necessary.  She also provides emergency lighting to seniors during home visits.
PICTOU, NS – Even though Barb Smith has been educating people about being safe in their communities for more than 20 years, she said there is always something new to learn. 
As coordinator of Pictou County Municipalities Crime Prevention, Smith is busy each week visiting seniors, hosting awareness campaigns and at times acting as a liaison between the community and the police services.
"Education, awareness, contact and resources –it is about making seniors feel safe and secure in their homes and communities," said Smith adding most of her work is with seniors, but she is available to speak to all age groups.
Members of PCMCPA believe crime prevention is a very effective way to try to improve the society in which we live.  It engages individuals and communities in recognizing and addressing crime, building stronger neighbourhoods, advocating for communication and encouraging ownership and responsibility for making changes. This will help reduce crime and produce safer, healthier communities.
It offers are a variety of educational and awareness programs such as fall prevention, elder abuse, home security and personal safety, cons and frauds, drug awareness, anti-bullying and identity theft.
"Our main focus is to educate people about what is going on, what resources are there and how they can resolve some things," she said. "We hold public presentations whether its on elder abuse or scams and frauds. Sometimes people will call with a direct issue or concern.  We partner close with seniors' outreach and it is a good partnership because sometimes a family member or neighbour will say they have a concern.   If it is something of a more serious nature, I forward it to the police.
It also provides information sessions according to needs, events, news related/stories.  If an issue is expressed, PCMCPA does its best to provide resources, information and contact.  
Smith said scams make seniors very vulnerable.
"They are trusting, lonely and home. When they are home alone, they get chatty and they believe what people tell them.  Most scammers are polite, mannerly people and take time to talk to them. They can be misled."
Its Seniors Isolation Project is helpful in keeping in touch with seniors in the local area. She said they involve her visiting local seniors' homes or seniors in their own homes.
Smith said having no public access transportation in Pictou County is a barrier for many seniors and their families, so a home visit makes all the difference in their worlds because it lets them know what is going on in their community.
"Sometimes we do a home visit at Tim Horton's because they want to get out or maybe they are not comfortable visiting in their home. Whatever fits the need," she said.
One of its longest running programs is the Vial of Life that allows people to keep their medical information in a vile in their fridge so emergency services personnel know where to locate it when they enter their home.
So far, more than 3000 vials have been provided to Pictou County resident and including most of the fire department who take them to help raise awareness about the program.
A new program that took place past fall was a six-week Seniors Police Academy that allowed participants to listen to presentation related policing and safety, ask questions about current events and have a better understanding of issues involving the new cannibals law, traffic safety, etc.
In regard to traffic safety, she said, PCMCPA also hosts a Seniors Safe Driving program that allows participants to update their skills in a classroom setting.  The course is led by a retired driving instructor from the Department of Transportation and Infrastructure Renewal and reviews such things as how to drive on 100 series highways, turning onto one-way streets and how to prepare your vehicle for winter driving.
She said it is an interactive session that is done through a workbook and there is no testing involved.
Anyone interested in these programs offered by the PCMCPA is welcome to contact Smith at 902-755-2886.