PC Sports of Hall in need of volunteers in order to keep doors open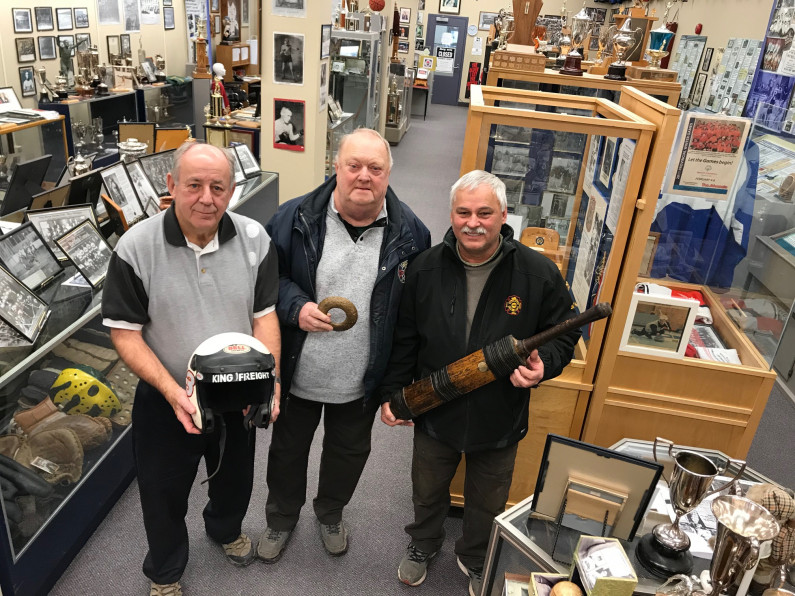 Pictou County Sports Hall of Fame Curator Barry Trenholm, Board Member Morris Campbell and Board Chair Jamie Davidson are looking for more volunteers to help out at the hall. 
NEW GLASGOW, N.S. - Barry Trenholm moves through the Pictou County Sports Hall of Fame like a walking Encyclopedia. 
There isn't a picture, a jacket, a jersey, a trophy or a piece of paper that he doesn't know the back story about or why it has a place here. 
With thousands of items dating back to the late 1800s to present day, it is no small feat to manage the local Sports Hall of Fame which started more than 15 years ago under the guidance of Trenholm's good friend, Billy Dee.
"I came here with Billy," he said. "I came to help him and then when he died, I didn't know what to do so we just kept going."
The Pictou County Sports Hall of Fame is governed by a board of directors that includes representatives from the County's six municipal councils and there are volunteers who help Trenholm, who is also a volunteer, take care of the day-to-day operations.
But, as with many things in life, there can never be too much help. 
"The biggest thing is that Barry pretty much does everything here and he is soon getting to the point of wanting to step back or have more help. We have some volunteers that come in, but we need some more," said Jamie Davidson, board chair for the Pictou County Sports Hall of Fame.
The Hall of Fame is open from 10 a.m. to 3 p.m. Tuesday to Thursday, but there are days when Trenholm works alone and finds it difficult do daily tasks such as pay bills, answer the phones and conduct tours for schools or special interest groups when he is there by himself.
"It would be nice to have someone with book keeping and attend to the mail," he said. "It doesn't seem like much, but in the run of the year, it is a bit of work.  We need someone to answer the phone, help with fundraising and writing grants. There needs to be a mini- manager or a couple mini managers. "
Davidson said the Hall of Fame would like to do an induction ceremony this year, but it takes volunteers to organize the event.  Such ceremonies have been well attended in the past and bring some attention not only to the athletes and builders of sport in Pictou County, but also to the Hall of Fame itself.
Trenholm has reached out to the previous induction committee which has shown interest hosting the event his year, but more volunteers are always welcome.
"The induction ceremonies are well attended and very well done," said Trenholm.
Both Davidson and Trenholm say changes need to take place in the near future in regards to its volunteer base or the Pictou County Sport's Hall of Fame could be forced to close its doors.   
Although it's difficult for Trenholm to say he is ready to retire, he admits he is at the point in his life where he is thinking about it more than ever before.
"The worst-case scenario is that we rent storage or have someone provide us storage for a few years and we see if we can get enough interest to reopen," said Trenholm. "But I worry, if we shut our doors, what is it going to take to get them open again?"
Anyone interested in finding out more about volunteering at the Pictou County Sports Hall of Fame can contact Trenholm at pcshhf@ns.aliantzinc.ca  or call 902-755-1755.