Pickleball sets available for loan from Municipality of Pictou County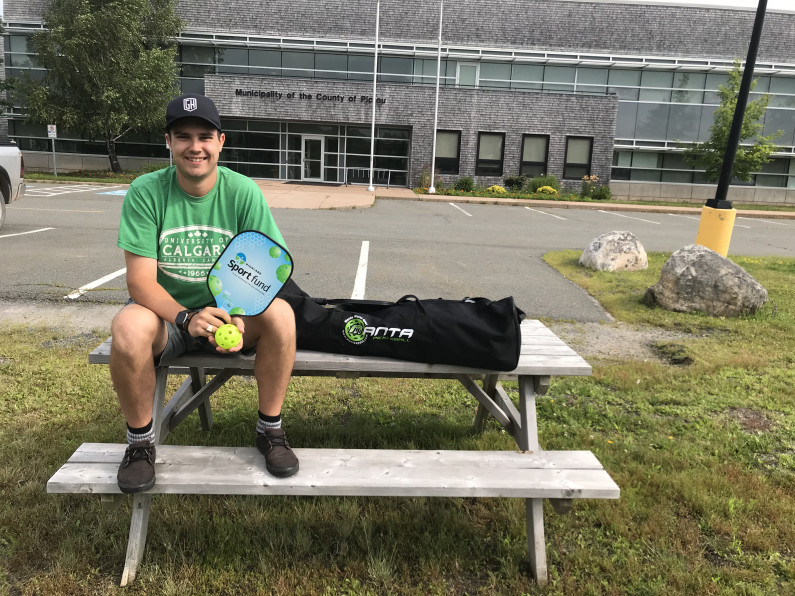 MOPC Summer Recreation Student Joel MacNeil has two pickleball sets ready to loan out to interested residents or community groups who want to give the popular sport a try.
The Municipality of Pictou County has two complete pickleball sets available for residents or community groups who want to give it a try.
Ian MacDonald of the Arisag Pickleball Association recently received a Sport Nova Scotia grant that allowed it to purchase four complete pickleball sets. 
To expand the sport, MacDonald decided three sets would go to Pictou County and one would be in Antigonish.    Two of these sets are currently with the MOPC recreation department and can be signed out for use free of charge.
"Right now, we are just finishing three new courts in Arisag behind our community centre," MacDonald said.  
He said the Little Harbour Community Centre has a good group of participants and he is hoping other community groups will take it up in the fall.
"It is great exercise and a great social environment," he said. It is a cross between tennis and badminton. In tennis you must learn a lot about the serve, but this is all underhand serve, so you learn it quickly."
MacDonald said after two hours of training, a person should have enough knowledge of the game to be able to play.
One game typically lasts 15 minutes or until the two-person team reaches 11 points.
He said it's a popular game for people over the age of 55, but there are some youth taking part in games at the Arisag Community Centre.
"We have ladies here in our community that have never played any sports at all in school. They are 65 to 70 years old and now they are coming out and playing three or four times a week."
He said the Arisag Pickleball Association has taken in guest instructors to help people improve their games and it has hosted tournaments.
"One thing about this sport is that there is so much resource on the internet that you can see how the game is played and look at drills on how to improve," MacDonald said.
He said anyone with questions about pickleball can also contact the Arisag Pickleball Association through its Facebook page.
Pickleball-on-Court-Safety-and-Etiquette.pdf