Playboxes bring old fashioned play and new ideas to local communities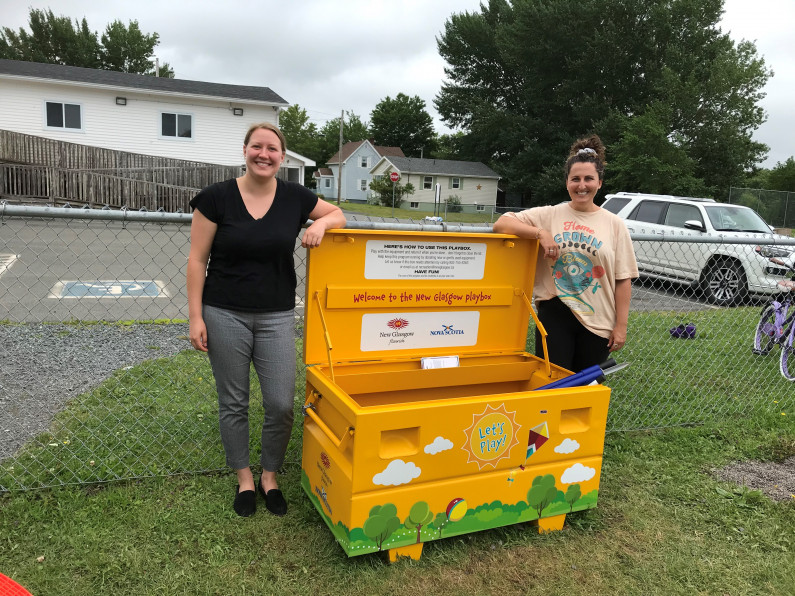 Veronica Deno, left, Active Living Coordinator for the Town of New Glasgow and Clare Steele, right, Active Communities Coordinator for the Municipality of Pictou County, invite you to play this summer with the assistance of playboxes located in all six municipal units as well as Pictou Landing First Nations.
Recreation in Pictou County wants you to put your imagination to work.
All six municipal units and Pictou Landing First Nations will be putting playboxes at local parks and community centres filled with toys, games and activities that give you unlimited, free access to activities while you visit these locations.
"All of our boxes are very much the same.  It is low structure, loose parts play," said Clare Steele, Active Communities Coordinator, for the Municipality of Pictou County. "People can come to these parks and community centres empty handed and pick something out of the box to play with or they can plan their visit around items in the box."
Veronica Deno, Active Living Coordinator for New Glasgow, said the boxes are a great addition to the community centres because they encourage people to try new activities as well as hold equipment that can be used on their fields and courts.
"The playboxes hold some similar equipment but they can also be adapted to where they are located," she said.  "For example, at the North End and Ward One Centres, we included basketballs because these centres both have basketball courts."
Steele said recreation staff work collaboratively and are always looking at opportunities for partnerships.  Deno and Steele both saw the potential for playboxes in the county, so they started planning this together.
"The great thing about the boxes is that you can use the games and equipment in them, and you can also donate to them," said Steele.  "If people have gently-used equipment they want to give away, they can leave it in the boxes."
The boxes also contain instructions for certain games and activities in the boxes so people know how to set up and use the equipment. They will also have sanitation kits inside that can be used to wipe down the equipment before it is used.   Recreation staff will monitor the boxes on a regular basis.  
Playboxes can be found in Pictou County at the following locations:
Municipality of Pictou County: Scotsburn Trail Head Park, Little Harbour Community Centre, Merigomish Schoolhouse, and the East River Valley Recreation Centre.
Pictou Landing: Pictou Landing School
Town of New Glasgow: Ward One Social & Recreation Centre, North End Recreation Centre and West Side Community Centre.
Town of Pictou: Veterans Drive Playground
Town of Stellarton: Allen Park
Town of Trenton: Chestnut Street Playground
Town of Westville: Acadia Park 
For more information about the community playboxes contact your local recreation and active living departments.