River John Knitters Make a Difference One Square At A Time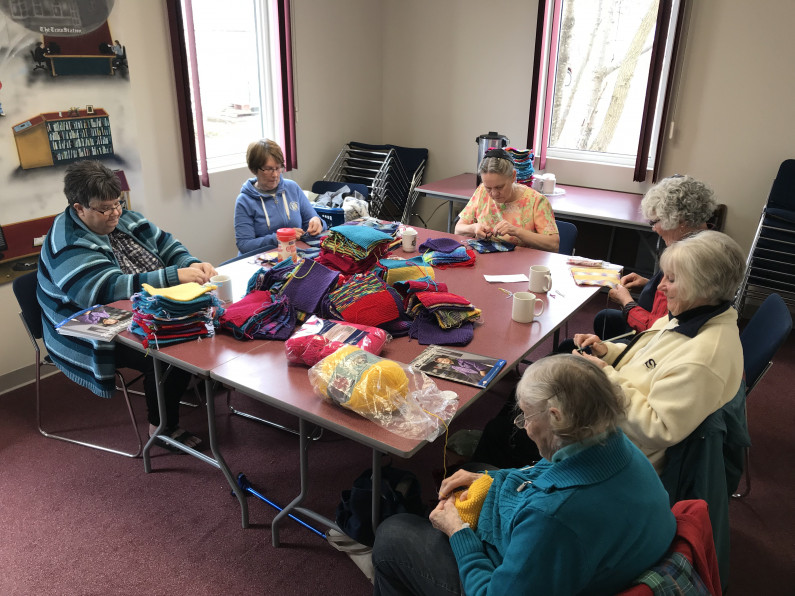 The River John Square Knitters had their work cut out for them during a recent Friday morning gathering at the River John Library.  Here, from the left, are:  Doris Heighton, Marie Langille, Qwen Boese,  Ruth Pfister, Shirley Longart and Joan Sutherland.
River John, NS - In the back room of the River John Library, a group of women are busy making a difference in the world.
The River John Square Knitters meet once a week to knit squares or put the finishing touches on some others that were donated by the community so they can be shipped to South Africa and made into the blankets for vulnerable and orphaned children.
For the past six years, the group has sent 18,000 squares overseas and it has no plans to stop what it is doing anytime soon.   The squares, which are sent to South Africa through Canada Post, are sent in bundles of 60 at a cost of $37 per bundle.
If the squares are sent individually, they are not considered commercial, so it dramatically cuts down on the expense of shipping them. Volunteers in South Africa make the blankets and sometimes River John patches can be identified on the blankets show on the KAS website.
So far, the River John Square Knitters have spent $8,000 in postage for this project.  A lot of the postal money is raised by the group which knits additional hats, mitts, scarves to sell at craft fairs while monetary donations are also accepted as well as donation of yarn or the knitted squares.
The group meets every Friday at 10 a.m. the library, but it will also accept donations from people who don't have time to meet as a group or would prefer to knit by themselves.  
Anyone wanting more information about this project can contact the River John Square Knitters at rjsk4kas@yahoo.ca or contact the River John Library at 902-351-2599.  www.knit-a-square.com