Salt Springs Elementary World Literacy Champions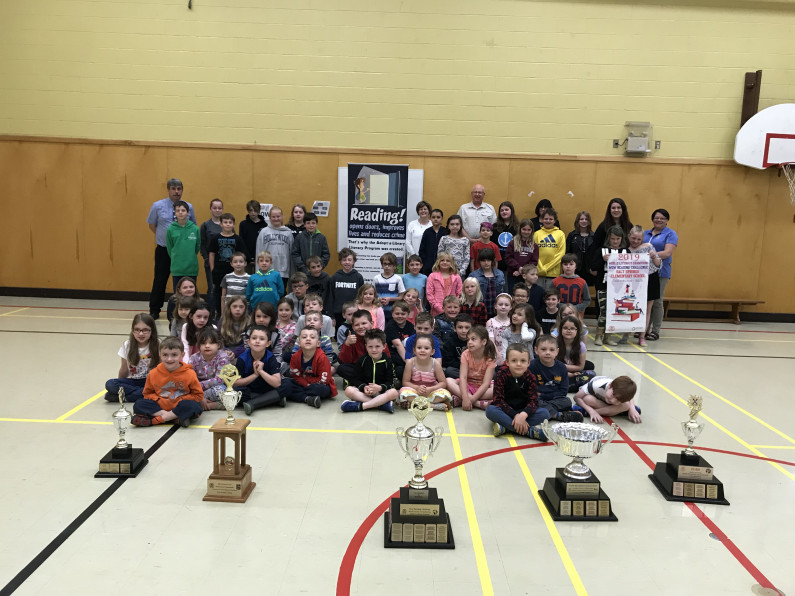 Students at Salt Springs Elementary School ended their school year as World Literacy Champions after winning the WOW Reading Challenge which is held in conjunction with the Pictou -Antigonish Regional Library. 
The 67 students at the rural Pictou County school read 16626 books as part of the reading challenge.  
Susan FitzGerald, left, of RBC, and Brande Nelson, right, a former student of Salt Springs Elementary and former WOW Reading champion in 2006, present the world trophy and banner to Ella Hiltz, second from left, Aliya Sutherland, Layla Dawe and Brady Hallam. 
The Adopt-A-Library Literacy Program's WOW! Reading Challenge began in Pictou County 12 years ago and has grown to include divisions for all ages (daycares and preschools, elementary, middle/junior high and high schools. New this year – private/separate and home-schools). The reading challenge is hosted by the Pictou-Antigonish Regional Library through a partnership with local policing agencies, schools, and community sponsors.
This reading competition is open to all schools, preschools, private/separate schools and home-schools in Pictou and Antigonish counties, and it is free. All competitions closed on April 1, 2019. Preschools and elementary schools will count the total number of books read, while middle schools and high schools will count the total number of pages read.
Salt Springs Elementary has been a World Champion in previous years, including capturing the first trophy in 2006.