Seniors Outreach Finding New Ways to Lunch and Learn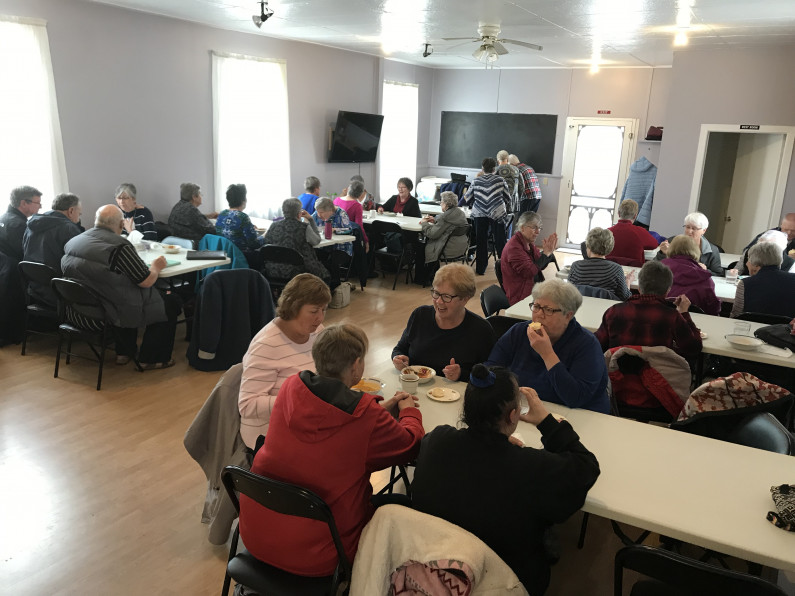 PHOTO: Gone for now are the days when people could gather for lunch and learns hosted by rural communities. Here is a photo of luncheon held in Caribou in 2019 but organizers are coming up with unique ways to keep connected to rural seniors and make sure the program continues.
Lunch and Learn sessions have been growing in popularity for rural communities.
They allow people to come together for a lunch that typically consists of soups, bread and dessert made by volunteers in the host communities which is combined with a presentation by a local guest speaker.
They are organized by Pictou County Seniors Outreach with funding assistance by the Municipality of Pictou County and are usually well attended, but when COVID-19 hit the province, the future of lunch and learns became unknown.
After a few months of following strict stay at home orders, Pictou County Seniors Outreach Coordinator Mary MacLellan started to become concerned about the program's existence and the people it served so she came up with some alternative solutions.
"We have to rethink how we will do these because I think it will be a while before we see seniors back together," she said.
MacLellan contacted volunteers in Millbrook, Garden of Eden, and River John to see if there would be interest in delivery lunch and learns. As she hoped, the response was positive and River John served 40 meals in May while 58 were delivered by the Millbrook Community Centre and 35 by the Garden of Eden Community Club this week.
She said volunteers with the Millbrook Centre made up a cold plate and the provincial guide Aging Positively was distributed with the meal as part of the learning component. Each meal also included a handmade card letting the seniors know in each community they are not alone.
Crossroads Country Market made cold plate meals for the Garden of Eden and they were delivered by club volunteers.
MacLellan said seniors in River John were happy to see summer recreation students delivering their meals.
"A lot of the students came back talking about the smiles on the seniors' faces," she said. "It will be the same way out of Millbrook and the Garden of Eden and how excited they are to have the program."
MacLellan said seniors' outreach has been busy this spring helping seniors navigate through the pandemic. It has also been helping to organize a Meals on Wheels program from May 19 to June 30 for seniors in the New Glasgow area with funds from the United Way of Pictou County.
As for the fall, she said it will continue supporting seniors and looking for ways to reach out to seniors and host safe events that keep people connected.