Uke Can Duet Strumming Away the Winter Blues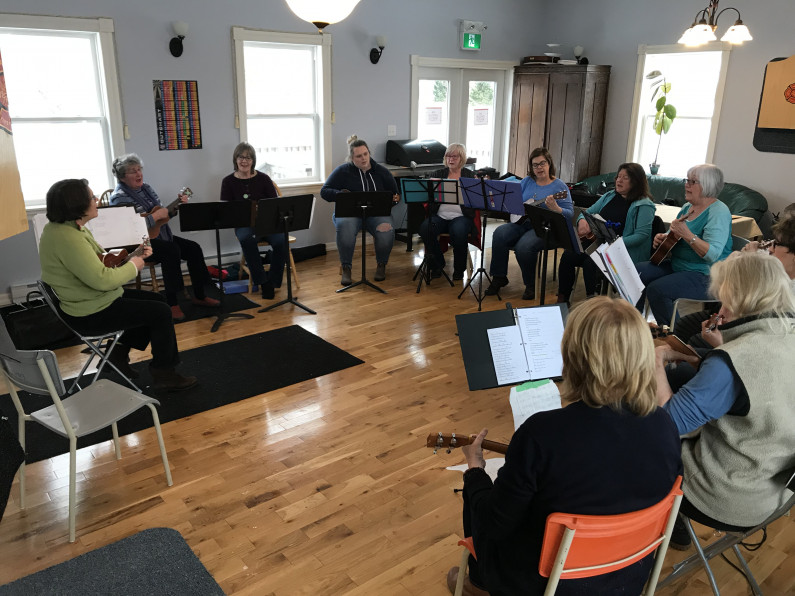 MERIGOMISH, N.S. -  The Uke Can Duet group in Merigomish is strumming through another successful season.    
Taught by retired music educator Marilyn MacDonald, the ukulele group, appropriately named Uke Can Duet, is just about as much about the music as it is coming together for friendship.
"As someone who is not originally from the area, community groups like Uke Can Duet are a wonderful way to meet your neighbours.  A lot of people work very hard in this small community to include and engage residents of all ages. I'm happy to be part of the fun," said Erika Sloan of Merigomish.
MacDonald said she and Vicki MacDonald decided it would be a good way to bring people together in this rural community, so they approached the Nova Scotia Health Authority and Municipality of Pictou County for funding to help them get started. 
The grant money was used to purchase 12 ukuleles' as well as instructional material for the program.  The cost of the instructor and rental space is covered by the participants.
"I am much more at home now than out and about as I used to be.  This group is close, welcoming, so much fun and we are progressing in our ability to play and sing.   Marilyn and Vickie are great teachers and leaders and it creates super social contacts. It gives me a chance to learn and be with my granddaughter which is special to me," said participant Alice Lees.
Both MacDonald women believe that making music brings people of all ages together to create, learn and receive joy from the experience.  They say music has the power to move us at any stage in life and the sharing of this music making in the community will enrich the lives of everyone.
"I retired to Egerton just over four years ago. Joining the Uke Can Duet group provided me with the chance to make new friends and helped me feel more a part of the community plus I always wanted to learn to play the ukulele. Marilyn and Vickie make it a lot of fun. No one cares how good you are, we just like to play and have fun," said participant Jackie Daniels.
Currently it is an all female group, but everyone is welcome to join, said Marilyn.  She assures everyone that it is not difficult to learn to play the ukulele and music played includes everything from the Blues to the Beetles.  
"Friday's at 4 p.m. is a bright spot in my week. It's singing and playing the ukulele with a great group of people just having fun," said participant Ginette Sutherland.
 The group has been playing public performances at local churches, senior homes and the Karen Lynn MacDonald concerts.  It usually takes a break from meeting in the summer months, but sometimes members can be found strumming on the local beaches.
"It's wonderful to be learning to play an instrument and make music with other people, especially with Marilyn who always teaches with lots of humour and encouragement," said participant Judy Sdrahleim.
The cost is $10 per session and the group currently meets at the Merigomish Community Centre. For more information on Uke Can Duet, phone 902-926-2556.
Videos of the groups music can be found on our Facebook page, The Municipality of Pictou County