Summer Fun and Games in District 11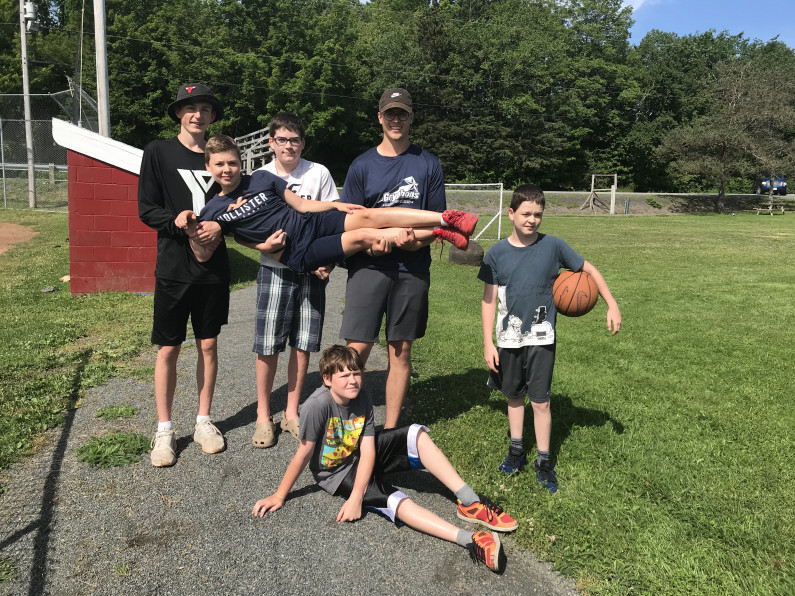 Here, East River Valley Recreation participants Seth Fraser, Jack Fraser, Program Leader Chris Gillin, Marcus Coady and Karson Coady hoist up Bauer Brophy.
SPRINGVILLE, NS – Recreation is in full swing in District 11 with two children's programs taking place until mid-August.
East River Valley Recreation is offering a new summer program for children ages 12 to 15 years old at the recreation centre in Springville.
Mike Hechimovich, a long-time volunteer with the recreation centre, said he came up with the idea of hosting a program for older children after parents were disappointed during registration for other recreation programs that only take children up to 12 years old.
There are currently seven children registered with the program and always room for more.  Chris Gillin is the instructor for the East River Valley program and usually lets the kids decide what they want to do each day.   The program consists of basketball, road hockey, softball, and soccer to name a few activities.   It runs until August 16.
 "They can still come," he said. "We will be here all summer."
The program typically runs from 8 a.m. to 3 p.m.  Monday to Friday but there is flexibility if the children want or need to leave early because of other commitments or heat.   
There are also days when Gillin works with recreation day trips or Plymouth's recreation program, so it is best to contact East River Valley Recreation through its own Facebook page to make plan to attend the program.  
Hechimovich said he would like to see everyone take advantage of the East River Valley Recreation Facility which is open everyday and has recreation equipment available to anyone.   It will also be expanding its walking trail and has washrooms on site. 
"We are at the point that we have it built back to where we want it and now we can maintain it," he said.
Plymouth Recreation children enjoy a day at the East River Valley Recreation Centre. 
A few kilometres down the road, the Plymouth Community Centre is also a busy spot this summer.   It is currently hosting 36 children between the ages of five to 12 for its recreation program that includes crafts, games and outdoor activities.  
Recreation leader Kelcey LeBlanc said the Plymouth children also make a weekly trip to the East River Valley Recreation Centre where they participate in activities with the older children.
For more information on any of the recreation programs taking place in the Municipality of Pictou County at 902-485-8528.