Summer Recreation Programs Ready to Go!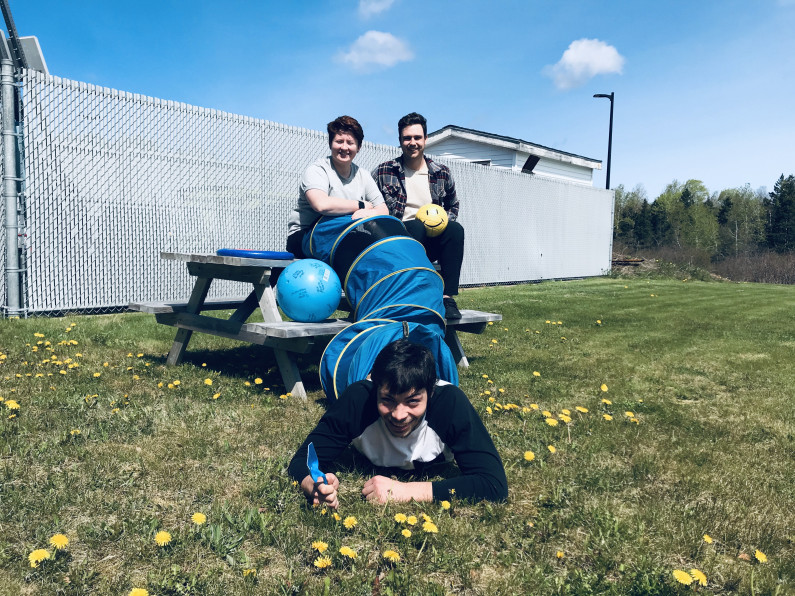 Our Summer Recreation students have arrived and are ready to start working outdoors with children in rural Pictou County. Here, top, left: Sydney MacDonald, Joel MacNeil, right, and Kyle Sutherland, along with Daniel Chisholm who is missing from the photo, will be working children in our LARK programs as well as assisting with summer programming in rural areas.
The following are a list of the communities in Pictou County hosting summer recreation programs and the contact person:
Lismore: Don Butler – 902-926-2589 – bultlerdon@live.ca
Plymouth – Janet MacDonald – 902-752-1018 – plymouthrecreation@gmail.com Plymouth Community Centre from July 4th - August 16th. The cost of our summer day camp program will be $150 per child or $250 for 2 children (family). We are holding registration on Thursday, June 6th from 6-8pm at the centre *first come, first serve.
River John – Joanne Wilkins – 902-351-2143 – bellwilk@hotmail.ca
Thorburn – Randy Palmer – 902-922-2277 – randy.palmer@novascotia.ca
NEW PROGRAM: The East River Valley is excited to introduce a new recreation program for the Summer of 2019! The program will take place at the Springville Ball Field complex starting on July 2nd and will run until August 16th. This program is available to youth 12-15 years of age and will provide activity-based opportunities such as basketball, ball hockey, softball, soccer and more for those who attend. This program will be free to attend, however depending on the amount of interest there may only be a limited number of spaces available. For further information please contact Mike Hecimovich at (902) 923-2194 or mikehecimovichcla@gmail.com. Cost is free and registration will be registration will be June 26th from 6-8 p.m.
This summer, Pictou County Recreation is providing special events and trips for the listed programs. Some of these may include trips to Magic Mountain, Discovery Centre and Shubenacadie Wildlife Park to name a few. There will also be special themed days, beach days and special events for the recreation programs during the summer months.
LARK: Leisure and Active Recreation Programs
The Lark program offers the children the opportunity to get out into the community and become active during the summer months. LARK is available to areas that do not hire summer staff and offers low organized games, arts, crafts and sports to children. It is open to children ages 5 to 12 years and cost is $10 per person or $25 per family. Cash only.
Salt Springs Elementary School - July 4 to Aug. 22 – Mondays and Thursdays – 9 to 11:30 a.m.
Caribou District Fire Hall – July 4 to Aug. 22 – Mondays and Thursdays – 1230-3 p.m.
TO BE DETERMINED: Little Harbour Community Centre – July 5 to Aug. 23 – Tuesdays and Fridays – 9 to 11:30 a.m.
For more information contact Pictou Recreation at 902-485-8528 or email recreation@munpict.ca
Check our website, Facebook and Twitter pages for regular recreation updates.