Support is available for people effected by Alzheimer's Disease or Dementia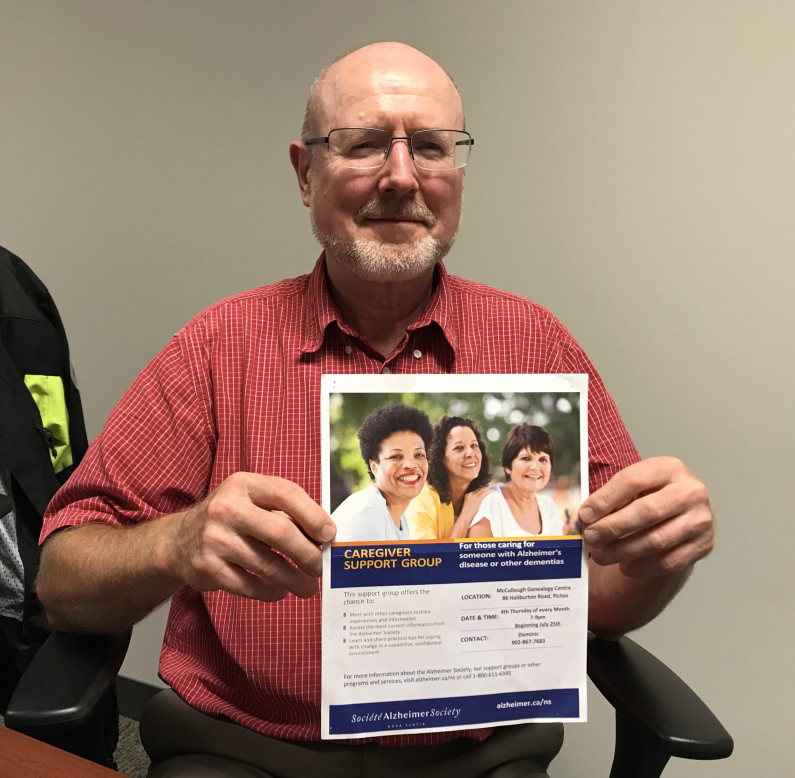 PICTOU, NS – Dominic Boyd wants to connect with people effected by dementia.
As an outreach and education coordinator for the Alzheimer Society of Nova Scotia, he wants people to know that there is help available to them and they are not alone.
"I am looking for the opportunity to do more outreach as well as talk to people who are coping with dementia or someone who has dementia in their lives," he said.   "Research has shown that people who care for someone with dementia carry a greater degree of stress than someone who cares for someone with another disease.  There are a lot of problems and an emotional drain in seeing the person you love change.  We call it ambiguous grief. The person is still alive, and they may look the same, but they are not the same. "
With a background in social work and mental health, he can speak to people or community groups about the services available in Guysborough, Antigonish and Pictou.  
"My primary objective is to provide education to the public about ways we can prevent or delay the onset of dementia and maintain good mental health as we age," he said. "We also provide some assistance and information to those who are being effected by dementia."
This fall, the Alzheimer Society will be offering a six-week Family Caregiver Education Series every Thursday from 1:30-3:30 p.m. at Pharmacy First on Foord Street, Stellarton.  There is no fee, but registration is required.  The series starts October 24.
 It is designed for family and community members caring for someone who has recently been diagnosed with Alzheimer's disease or another dementia.  Caregivers will increase their knowledge of the nature and course of dementia, become more aware of community resources and how to access them as well as gain information, tools and strategies to care for themselves and someone living with dementia.
In addition to his day job, Boyd also leads a support group for people have who someone with dementia in their lives.  It meets the fourth Thursday of each month at McCulloch House Museum in Pictou from 7 to 9 p.m.
"In our support group, there are a few things that happen," he said. "People get an opportunity to talk, share their struggles and talk about things they are learning. They can tell stories and get ideas, suggestions and maybe some hints on how to handle certain things."
The first meeting had 13 people attend and many people said they felt a weight off their shoulders by talking and listening to others who have similar problems and concerns.
Information about prevention is also shared through the Alzheimer Society which includes basic tips such as exercising and eating well.
"It is important the general population understand that risk factors for heart disease are like risk factors for dementia.  It could be that people in their middle age have time to make some changes in their lifestyles and see the benefits of it," Boyd said. "Don't smoke, keep a good weight, manage diabetes, eat well, exercise.  One of the best things people can do for themselves is get out and go for a long walk every day.  It gets the blood supply going better."
Boyd said he is happy to speak to any community or senior's group about the services offered by the Alzheimer Society as well as provide prevention and support tips.  
Anyone wanting to register for the Family Caregiver Education Series or learn more about the support group as well as services offered by the Alzheimer Society can contact Boyd at 902.876-7683 or email dominic.boyd@asns.ca. 
The Alzheimer Society also has a toll-free information help line at 1-800-611-6345.