Volunteers step up to keep local tourism centres open longer into the year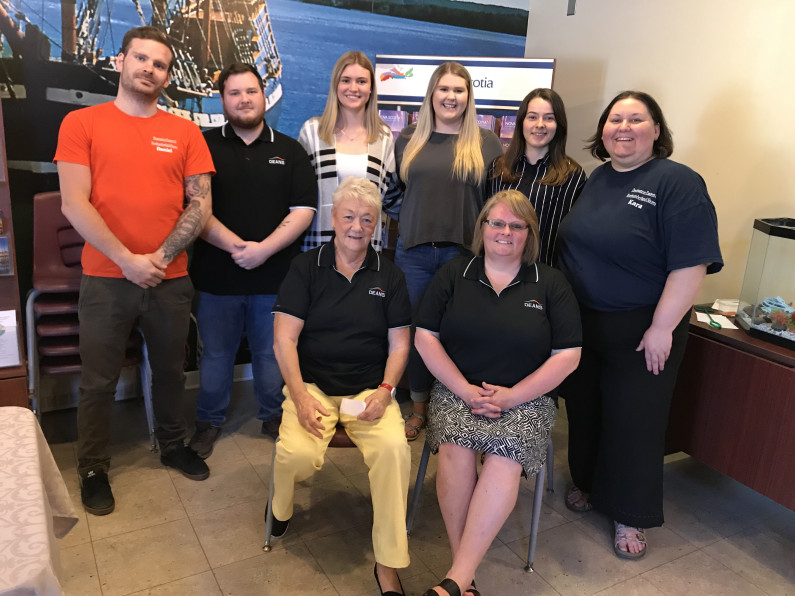 Local visitor information centres are ready to open their doors for another season.  Staff of DEANS includes from the back, left: Summer Students Daniel Weyman, Connor Matheson, Kelyn Palmer, Hailey Conley, Paige Hodgson as well as DEANS Visitor Services Coordinator Kara Allen.  Front left: Volunteer Anne Emmett who is the Lead Ambassador for DEANS's Volunteer Program as well as Cindy MacKinnon, managing director of DEANS.
PICTOU, NS – A volunteer opportunity that largely involves listening and talking to visitors awaits people at the local visitor information centre.
Destination Eastern and Northumberland Shores, in partnership with the Municipality of Pictou County, held a lunch and learn recently for about 20 people interested in learning more about volunteering with local tourism.  It is targeting its volunteer base at people who are 55 years and older who might have some free time on their hands in the fall to volunteer at the visitor information centre at the Pictou Rotary.
Cindy MacKinnon, DEANS managing director, said the centre is typically staffed by summer students and staff from June to September, but this year DEANS would like it to stay open longer so it can accommodate many of the people who travel in the fall.
Since the summer students are going back to school in the fall, DEANS would be relying on volunteers to work a few hours a week with staff to greet visitors, direct them to the nearest restaurants, attractions or hotels and make their experience in Pictou County the best it can be.
Anne Emmett, who is Lead Ambassador for the Volunteer Program, has been volunteering at the VIC for years and said it is both a rewarding and interesting experience.
"It is surprising the questions we get from visitors, but this is where we come in and hopefully, we can pass some of our experiences and knowledge on to other.  We are the people that live here in Pictou County. Whether we know it or not we have a wealth of information and this is a great opportunity to enhance the visitors experience.  We hope to build a great team to help keep the centre open into the fall." 
MacKinnon said in addition to travellers coming off of Northumberland Ferries, Pictou County is a good stop over for people travelling through to Cape Breton or Halifax, so DEANS wants to take advantage of this and make sure people have a memorable experience.
Volunteers are welcome to take advantage of any training that is being offered free of charge by DEANS including learning languages such as French, Mi'kmaq and sign language.  
"You could learn a few words such as 'welcome' or 'hello' because we are certainly not going to be fluent in any of these languages, but we want to be able to welcome them in their languages," she said.
There will always be two people volunteering at the same and interested volunteers are encouraged to take a shift during the summer months so they are familiar with the centre and can learn from techniques from the summer staff.
The visitor information centre at the Pictou Rotary will officially open its doors this week for the season. Its June hours of operation will be seven days a week from 9 a.m. to 4:30 p.m. while in July and August it will be open from 9 a.m. to 630 p.m.  In September, it will reduce it hours once again.

MacKinnon said there is still time for people to sign up to volunteer with DEANS. They can do so by contacting Kelyn Palmer at kelyn.palmer4@gmail.com or by calling 902-752-6383.