World Class Curling coming to Pictou County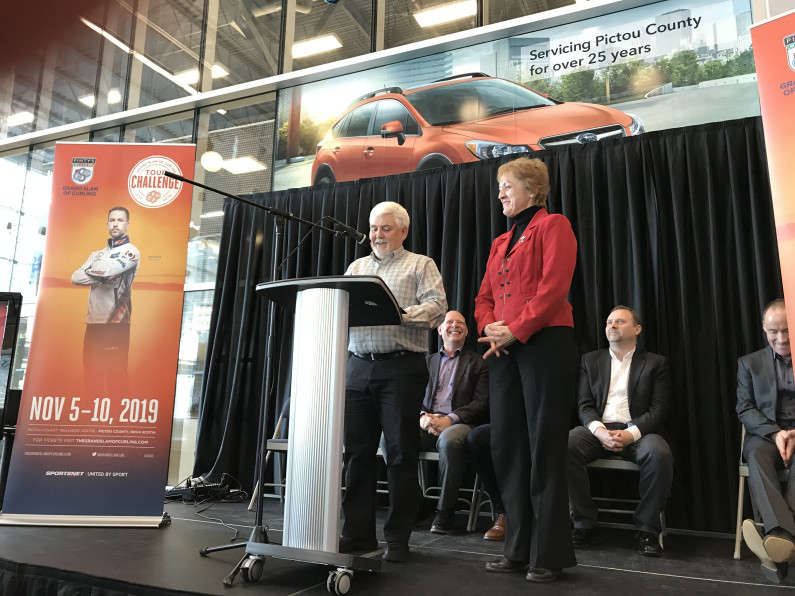 WESTVILLE ROAD, PICTOU COUNTY – The world's best curlers are coming to Pictou County in November.
The Pictou County Wellness Centre will be hosting the Pinty's Grand Slam of Curling Tour Challenge from Nov. 5-10. 
Olympic Gold Medalists Kevin Martin, who was recently inducted into the Curling Hall of Fame, was on hand Tuesday to announce this international curling event that will feature well-known curlers such as Brad Gushue, Rachel Homan and Jennifer Jones.
"This is the biggest event, maybe the only event, where pros play in two different venues," said Martin who is a now a broadcaster for Sportsnet which will be televising the Grand Slam.
The 2019 Tour Challenge will feature the 15 best men's and 15 best women's teams from around the world in the Tier 1 division.
The 30 participating teams will compete in a round robin format, contending for a combined $300,000 purse and a berth in the Humpty's Champions Cup, the final Grand Slam event of the season.
The winners of the Tier 1 event receive invitations to the Champions Cup. The winners of the Tier 2 event receive a promotion earning invitations to a future top-tier Pinty's Grand Slam of Curling tournament
This event is the best of both worlds – you get to see the sports biggest stars, as well as the future stars of the sport.
Jim Nix, who is co-chairing the Grand Slam with Donalda Buckingham, said community support is needed in order to make this a success.
"You need a community that is going to come out and support the event, not only by buying tickets, but volunteering. We are looking for something between 225 to 250 volunteers. It is a big number. Our curling community in Pictou County is not much bigger than that.  We are looking for volunteers far beyond the curling community and Pictou County has proven over years to be a great area for hosting events."
Volunteer tasks range from drivers, ticket sellers, ushers, scorekeepers, timers, statisticians, first aid to security. All tasks can be found on the Pictou County Wellness Centre website.   Sponsorship opportunities are also available for businesses looking for regional or national exposure.
Ticket sales will be processed at the Pictou County Wellness Centre box office, Monday to Friday from 8:30am – 4:00pm or at www.ticketproc.ca.Early bird ticket packages will go on sale Wednesday, March 6th at 10:00am. On sale dates for individual tickets will be announced in fall 2019. More information is also available at www.pcwellnesscentre.ca