Close to Home: MOPC Council gets schooled on Human Trafficking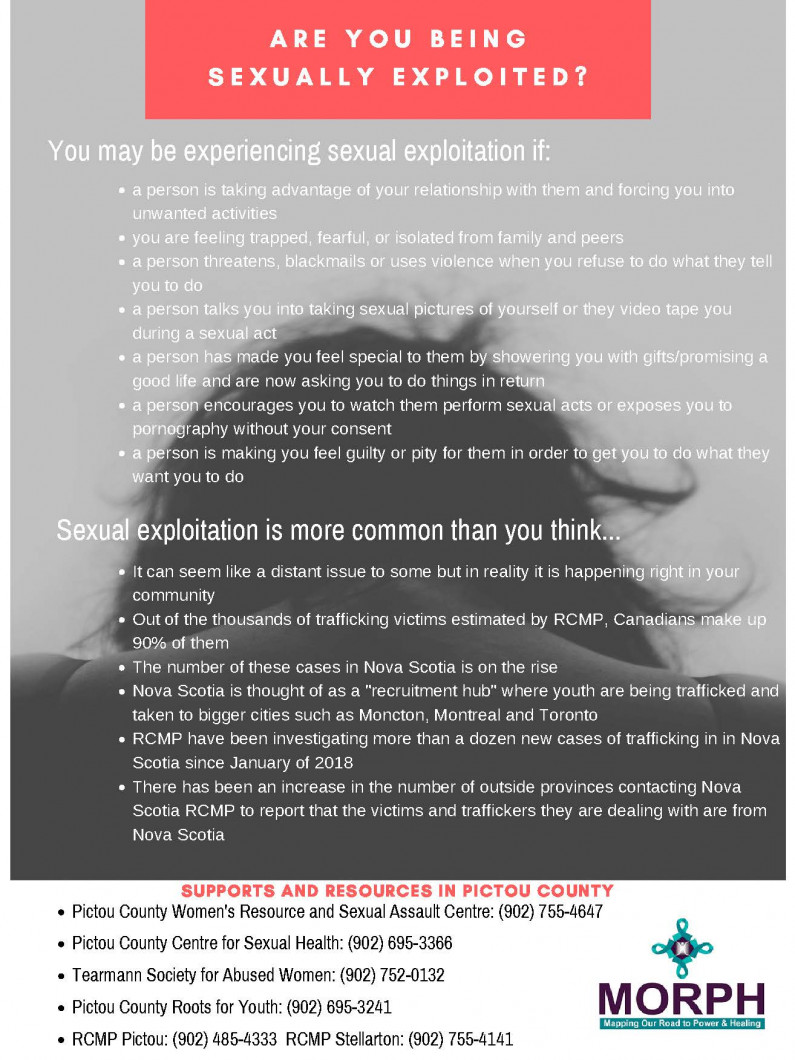 PICTOU – The Municipality of Pictou County council recently received a frank and educational lesson in human trafficking.
Shelley Curtis-Thompson, executive director of Pictou County Women's Resource and Sexual Assault Centre, told council that human trafficking is present in Pictou County and provided councillors with information on youth at risk, common techniques used by traffickers and resources available to help those in need.
"Nova Scotia has been documented as a very large exploitation exporter of people across our borders. Pictou County is not immune to being a part of that."
Commercial sexual exploitation typically happens to someone under the age of 19 who cannot legally consent or participate in any form of sex work.
She said some of the things that put youth at risk include young people who are in or just aged out of foster care, homelessness, runaways, and drug use. LGBTQ+ also deal with higher rates of trafficking and exploitation and they often face marginalization.
Curtis-Thompson said colonialism and racism create risk and about half of all persons trafficked for commercial sexual exploitation in Canada are indigenous.
"Indigenous women make up four percent of the Canadian population and about 50 per cent are trafficking victims," she said. "African Canadians, immigrants, and Asian women are also overrepresented."
People with low self esteem, a low sense of belonging anywhere, or those who often seek approval from peers, intimate partners and gangs are also at risk. She also noted that there may not be any risk factors and a person can still be sexually exploited.
She said there are similarities between people in abusive domestic relationships and those being sexually exploited.
"It often starts with social isolation, economic dependence, intimidation, control, manipulation and that creates a circle that is hard to get out it."
Recruitment by human traffickers is often done by giving praise and attention to vulnerable youth and offering to take them on road trips to larger cities or photograph them. Often traffickers use such techniques as grooming, love bombing, are persistent and send sexually explicit material to the youths. Boyfriend/girlfriend luring is also common as well as sextortion, revenge porn or blackmail.
Curtis-Thompson encouraged councillors to become more informed on the issue and learn the warning signs that someone might be in trouble.
Some of the questions a person could ask themselves if they are concerned about someone being sexuality exploited are:
How old is the person?
What is the age difference between the parties?
How did the relationship evolve?
What degree of control or influence does this person have over the other person?
Is the relationship wit the person in a position of trust, authority, or dependency?
Does the person withhold or provide access to essential services to the person?
There are several services available to help and they include:
The Canadian Centre to End Human Trafficking National Hotline:
1-833-900-1010
Provincial Human Trafficking Team Tipline, Nova Scotia: 902-449-2425
Mental Health Mobile Crisis Team: 1-888-429-8167
Child Protection 1-833-424-5800
Stepping Stone: 902-420-0103
Nstay Program: 782-414-7657
Tearmann House: 902-752-0132 or 1-888-831-0330
Pictou County Women's Resource and Sexual Assault Centre – 902-755-4647
Avalon Sexual Assault Centre: 902-422-4240
Nova Scotia Native Women's Association- Jane Paul Indigenous Women's Resource Centre: 902-593-5890
Association of Black Social Workers: 902-407-8809
Curtis-Thompson said human trafficking is being given more attention by policing and society compared to years ago, but there is still work to be done. She said it important people have frank and honest conversations about it.
"We are beginning to recognize as a society that this is an issue that we have to a pay attention to," she said.