Community Centres holding on during Pandemic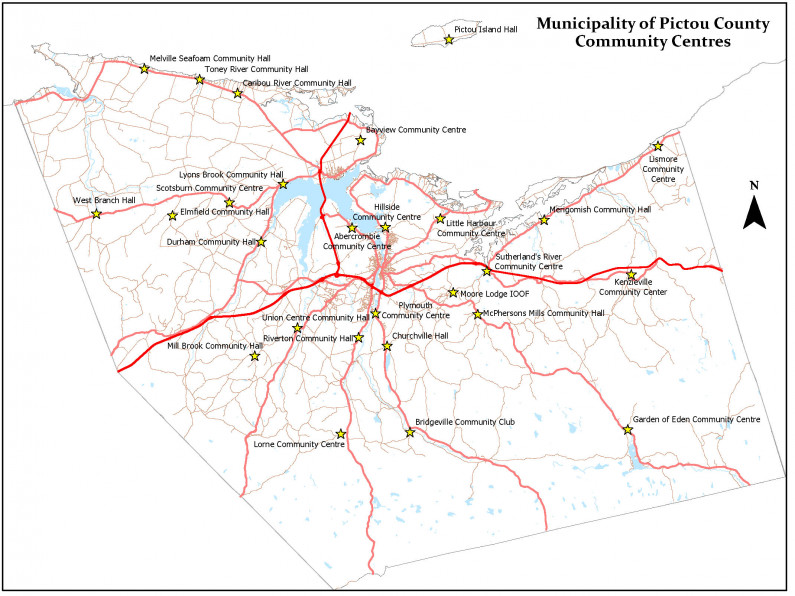 Photo: A map of the community halls in rural Pictou County. This does not include fire halls, church halls, or legions.
Community centres are often the hub of activity in rural communities.
Card parties, lunch and learn sessions, and fitness groups often access the halls so people can socialize with neighbours in a familiar location, but when public health restrictions came into effect in March 2019, many of these halls sat empty.
Ann Munro, a volunteer with the Garden of Eden Community Hall, said it makes her sad to see the hall sitting empty, especially on Friday nights when she and about 20 other people would regularly attend card parties.
"It's Friday night and we can't play cards," she said. "There used to be between 16 and 20 people, maybe more on some nights and sometimes you couldn't hear yourself think because it was full of laughter. How wonderful is that? People are in their own community, having a great time and having fun. It was a nice evening without having to leave their community and go elsewhere."
She hopes card parties will return in the fall and depending on public health restrictions, there might be the opportunity for hall rentals in the spring and summer months, but until the pandemic subsides, the future is undecided.
"The goal is to ride out the summer and hope for things to get better," she said.
The lack of rentals and events has equated to a lack of funding for the centre, but she said it is still in decent financial shape because it has been able to cut some costs.
"Every year we get a small operational grant from the Municipality which covers most of our expenses and we can suck up enough," Munro said. "We are prudent and frugal."
Heather Cameron, the community coordinator for the District One Development Society, said many halls in her district have had limited activities and rentals in the past 12 months.
Normally this time of year, the Lismore Community Hall is hosting sold-out shows for its Lismore Review Dinner Theatre, but this year it has opted to do a "NO Show" online auction.
There has been good support for the fundraiser, and she expects financially the Lismore Hall will weather the pandemic without too much trouble.
"We are still okay because there aren't as many things happening. We are not using as much propane and food to host these events. Not as many people are renting the hall, but I am not sure the cost of renting covers all of that (food and heat) anyway. We are still in the black. We are holding our own but there will not be a lot of extras at the end of the season."
She said the Lismore Hall is a busy place throughout all seasons and she is concerned about people who are not getting out to see their fellow community members.
"The biggest thing in our mind is that people can't socialize," she said.
Alena Martin, president of Scotsburn Recreation, said COVID gave volunteers a chance to slow down a bit and focus on some projects that would be much more difficult to get done if it was a typical year.
"It gave us a bit of a breather," she said. "We are a small group trying to do everything."
She said the JP Gammon Hall in the heart of the village will undergo much-needed renovations to make it more accessible and the park neighbouring the hall is being used to create a community food forest under the leadership of Raina MacDonald.
Martin said the hall is being rented out by small groups as public health restrictions allow which brings in some income while it is also continuing with its 10/49 lottery with this revenue helping to cover its bills.
The pandemic has forced her group to be creative in finding ways to generate revenue but also keep the community connected through safe activities. She said they are planning activities for the summer months because they believe it is better to be prepared than not have anything in place at all.
Kara Allen, coordinator with the East River Valley Community Development Association, started her new role just three weeks before COVID restrictions began in 2020 so the past year has been a challenging one.
However, the association put on its creativity caps and came up with new events that would make use of the community's recreational space and let residents socialize safely.
"We did have a successful fall rural market outside of the Churchville Hall in October and we are going to do another in June."
The association also hosted drive-thru Halloween and Christmas events that allowed people to come out to celebrate these special days in their community and more events Covid-safe are being planned for the spring and summer.
Progressive thinking has helped the Plymouth Community Centre prepare for a pandemic. Ruth Thompson, secretary and treasurer for the centre, said having solar panels installed have taken some of its worries away.
"We didn't have much income, but we have the solar panels to keep us going. We are not in too bad of shape right now," she said.
The board has not completely ruled out hosting a summer recreation program at the hall, but it depends on the state of public health restrictions in the summer.
"It is a wait and see," she said. "I got a call from Elections Canada to use the hall for a polling station, but I said it just depends on when it is."