Council Recognizes Two Community Groups for Going Solar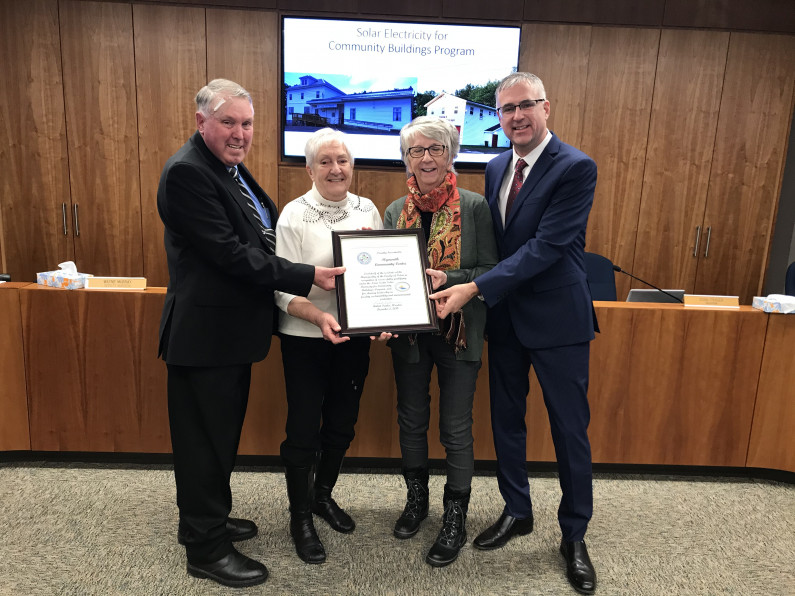 Warden Robert Parker, left, and District 11 Coun. Andy Thompson presents Ruth Thompson and Janet MacDonald with a plaque of recognition in honour of the Plymouth Community Center's recent success in installing solar panels on its building.
Two community groups in District 11 have been recognized by the Municipality of Pictou County for their work on solar energy.
The Plymouth Community Centre and the East River Valley Fire Department were recognized during December's council meeting for being successful applicants under Nova Scotia's Department of Energy's Solar Electricity for Community Buildings pilot program.
"These two groups, through their applications, demonstrate local leadership on the issue of global warming," said District 11 Coun. Andy Thompson, during the presentation of plaques to the two groups.
Under the Solar Electricity for Community Buildings Program, non- profits, municipalities, universities, and First Nations were eligible to apply. Successful organizations enter into a 20-year Power Purchase Agreement with Nova Scotia Power. Under this agreement, they will sell power produced back into the grid at a preferential rate.
The Plymouth Community Centre was persistent in their pursuit of a successful application. After being denied in the first year of the three-year program, they re-applied in year two and were selected in August 2018.
They proved they were ready for the challenge as they fundraised and financed about two-thirds of the $53,000 project. When the 22 kW, the 72-panel system went live in February of this year, they became the first operational system in Nova Scotia under this program.
For the Plymouth Community Centre, installing a solar Photo Voltaic system makes the building energy self-sufficient, provides a revenue stream for the building, and, most importantly, relieves the financial strain on this volunteer group. The building no longer relies on oil to heat the building. They have removed the chimney, and plans are in the works to remove the furnace and oil tanks to the delight of their insurers.
The project was funded through a Council Grant of $10,000 from the municipality, donations from Sobeys Foundation ($10,000), Watts Wind ($10,000), SW Weeks ($5,000), Pictou Mutual Community Foundation ($2,500), Pictou County Excavators ($1,000) along with some community donations. The balance of the project was financed through an ECO loan at the East Coast Credit Union.
They will continue their energy efficiency in the coming years with the proceeds from the solar panels by installing energy-efficient windows, updating light fixtures, and insulating floors.
Warden Robert Parker, left, and District 11 Coun. Andy Thompson present Kim Goodfellow and Cathy Hay of the East River Valley Fire Department with a plaque of recognition for their success in securing government funding to place solar panels on the roof of the fire hall.
The East River Valley Fire Department was awarded in the final year of the pilot program. In fact, they were the only Pictou County applicant selected this year. Their 15kW, 48-panel system will be installed in the spring of 2020 in conjunction with the installation of a new steel roof.
This project will lower the operating costs of the building and help this small rural fire department focus their energies on finding and maintaining their firefighting equipment.
East River Valley Fire Department also plans to make energy-efficient upgrades to their building to further reduce their reliance on carbon-based energy sources such as oil and coal-fired electricity.
Both projects were aided in their application by a local solar installer. Robert MacKean of Nova Sun Power of Toney River provided the technical expertise to complete the forms and in Plymouth's case, a successful installation.
"We recognize their accomplishments tonight as local leaders in the global climate change fight. These projects are examples for residents to follow, said Coun. Thompson. "Thank you for your commitment and effort in providing an example of what can be accomplished with hard work, determination, and a commitment to the communities they serve.