County Presented Silver Medal from Special Olympics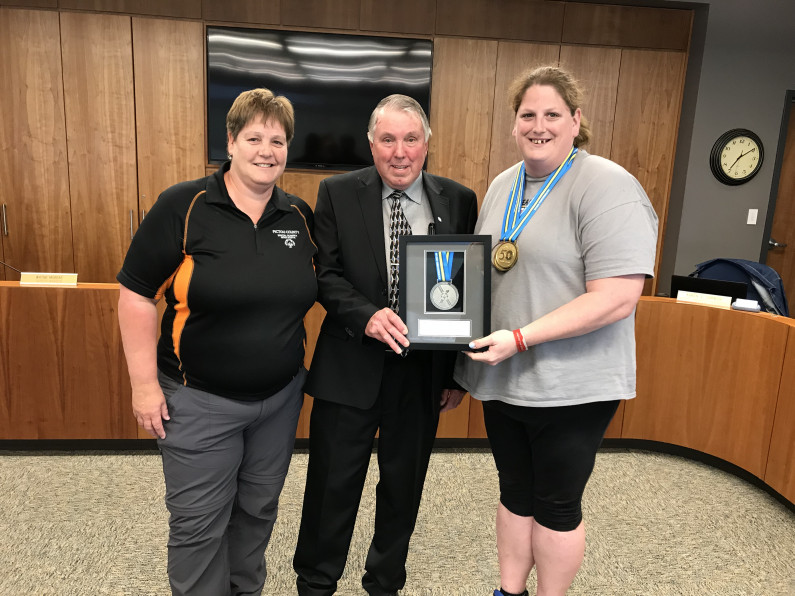 Cathy Mason, left, regional coordinator for Special Olympics Pictou County,  and Stacey Saunders, a national gold and silver medalist for Special Olympics, present Municipality of Pictou County Warden Robert Parker with a silver medal as a thank you for the County's financial support of the national games held in Antigonish in 2018.
The Municipality of Pictou County was presented with its own silver medal Monday during its July Council meeting as a thank you for its support to the National Special Olympic Summer Games held in Antigonish in the summer of 2018.
"We are very grateful to you guys that you were able to support us," said Special Olympian Stacey Saunders who presented Council with the same silver medal given out at the games.  Saunders is a two-time gold and silver medalist from the national games.
The Special Olympics Canada Summer Games is a national sporting event for competitive athletes with intellectual disabilities. In 2018, Antigonish hosted the games and most of the events were held at St. Francis Xavier University.  Each athlete must qualify at the local and provincial level before coming to the National Games. The Special Olympics Canada 2018 Summer Games is also a qualifying event for athletes to represent Canada at the 2019 Special Olympics World Summer Games that were held in March in Abu Dhabi, United Arab Emirates,
There are nine sports featured at the games: athletics, basketball, bocce, golf, rhythmic gymnastics, powerlifting, soccer, softball and swimming.
The event was expected to host 3,000 spectators, in addition to over 900 athletes, 290 coaches, officials and mission staff, and 600 volunteers.
Cathy Mason, who is the regional coordinator for Special Olympics Pictou County and Chef de Mission for the National Games, said she has attended many national games across Canada, and she believes last year's games were the best yet.
"I have gone to 10 to 15 across Canada, and not just because these were in Nova Scotia, but they certainly set the bar high being at StFX and having everyone on (the STFX) campus."
County Warden Robert Parker said the opening ceremonies for the national games left a lasting impression on him.
"This was a great occasion not only for Antigonish, but for our province," he said. "I will never forget that night when people just kept pouring in from all the provinces with their flags and uniforms and it was like watching the Olympics on television."  
 The silver medal will hang in the foyer of the Administration Building for the Municipality of Pictou County.