Design plans unveiled for new Pictou library and deCoste Centre cultural hub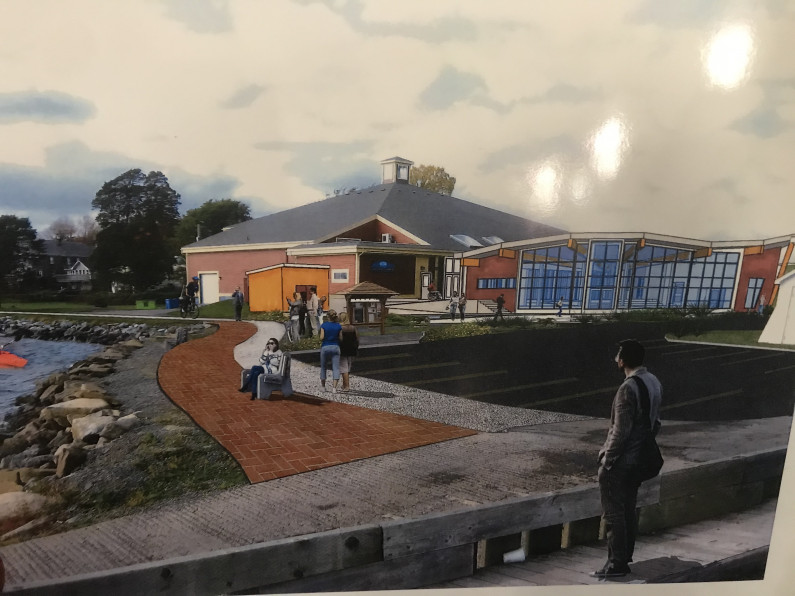 PICTOU, NS – Two buildings in need of extensive upgrades are coming together to form one cultural hub.
An information session was held Oct. 16 at the deCoste Performing Arts Centre to share plans for the new cultural hub that will see the Pictou Library and the deCoste come together in the same building to create a cultural hub for learning, socializing and love of the arts.
"This is very important to residents of Pictou West. The deCoste has been here many years and is well respected throughout the county for culture," said Municipality of Pictou County Warden Robert Parker. "If we want to attract new residents and visitors to the county, we need to be known for more than just the economy we need to be a hub for culture. Libraries have changed a lot and the deCoste is a big feature. We need to celebrate what is coming here. It is a big deal. "
The Municipality of Pictou County and the Town of Pictou have agreed to fund $550,000 in capital costs to the project in addition to its usual funding for operations. The $550,000 will be divided between the two municipal units for $275,000 each. The project is also relying on funding from the federal and provincial governments as well as corporate and community donations. The total cost of the project is estimated at $7 million. It is hoped construction on the project will begin in the fall of 2020.
Designs revealed on Oct. 16 show the new Pictou library built onto the deCoste Centre which is located on Water Street in Pictou. The deCoste will also see much-needed upgrades to its existing building.
"The town reached out to Pictou Antigonish Regional Library and the deCoste to enter into discussions and we saw the benefits of this project. The Pictou Library serving West Pictou is dated, not fully accessible and really lacks the space to deliver programming it would like to deliver," said Troy Greencorn, creative and executive director of the deCoste Performing Arts Centre. "The deCoste is coming up on 40 years old and is facing a lot of age-related deficiencies such as plumbing, electrical, heating, and cooling systems. In recent years, we had to deal with a lot of those things. It is reaching that point if not for this project there would a significant investment required for the building."
The new Pictou Library will include meeting rooms, gathering spaces, tech areas, art displays and more. A shared customer service desk will be used for both the deCoste and the library. It is believed that by bringing multiple organizations under one roof, costs can be reduced and shared, allowing more effort and resources to be spent on mandates and services and less on operating costs.
"There is a big push in the world today to have these hubs," said Eric Stackhouse, chief librarian for the Pictou-Antigonish Library. "They are places people come together for a variety of reasons and have lots of experiences. You can reduce costs through sharing. I see no idea why our staff can't help purchasing a theatre ticket or look for information."
The library envisions its user counts raising from 700 weekly to over 2000 which it says will help spark the revitalization of the downtown area. It often used the Antigonish library as an example of what the new cultural hub in Pictou could be in the future.
Over the past few years, the deCoste Centre has increased its members from 400 to 900 people and has seen a significant increase in the number of shows and programs its hosts, but there is always room for new growth by exposing more people to the theater.
"Six years ago, ticket sales were under $100,000 a year and last year they cracked $300,000. That shows in this community people love the arts. They value the arts and they love this building. We are looking at how we continue to look at the best ways to do it. I get excited when I think about 2000 extra people in this building walking past the posters every week," said Greencorn.
Complete design plans, public feedback and a business plan for the project can be found on its new website at www.culturehubpc.ca People wanting to provide feedback on the project directly to those involved can also call 1-866-779-7761.