Karley Shaw attends Calgary Stampede as Queen of Clydesdale Horse Association of Canada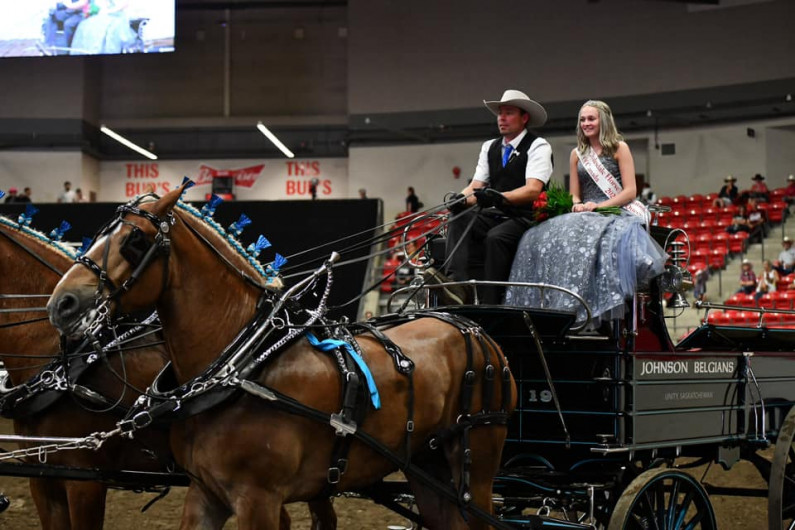 Karley Shaw had to wait an extra year to wear the crown at the Greatest Outdoor Show on Earth.
The 19-year-old of Hollow Creek Stables in Elgin, Pictou County was recently named the 2021 Clydesdale Horse Association of Canada Queen at the Calgary Stampede. It is an honour bestowed to a person who regularly shows Clydesdale horses and a nod from the association for all her hard work over the years.
Karley was selected by the association as a princess in 2019 and was supposed to be queen in 2020, but when the stampede was cancelled because of the pandemic, she was given the honour in 2021.
"It doesn't usually happen to people from the Maritimes," she said, in regard to being crowned queen.
The title required her to present trophies and buckles at the stampede for the Clydesdale division. She will continue to do such presenting throughout 2021 at Maritime shows.
Karley has been showing horses since she was five years old and is familiar with many breeds.
"My dad always says there is a good horse in every colour and we have had them all."
Karley's father, Justin, accompanied her to the Calgary Stampede this year and judged some Clydesdale categories at the stampede.
This summer, Karley will be assisting people at horse shows as well as driving Clydesdales. In January, she plans on attending community college in New Brunswick to begin her studies as a licenced practical nurse.
District 12 Coun. Chester Dewar acknowledged the accomplishments of both Karley and Justin during a recent council meeting.
"This is a big, big deal for people from Nova Scotia and Pictou County to come from Elgin to get to the Calgary Stampede," he said. "I was really proud, and they are certainly good ambassadors."