MOPC give financial support to River John Pickleball Courts
RIVER JOHN - The Municipality of Pictou County is providing money to help cover some of the costs of constructing an outdoor pickleball court in River John.
Warden Robert Parker said the Municipality of the County of Pictou is pleased to be a major financial contributor towards the construction of the facility.
"In a particularly tight budget year, the amount of $37,992 was difficult to come up with but the extraordinary efforts of the River John committee convinced us of the great benefits that this new facility will bring, not just to River John, but also to many surrounding communities," Warden Parker said.
"Our Council's Recreation Strategy recognizes the great benefits of movement of any type for maintaining physical health and also socializing with friends and neighbours to improve one's mental health. The new pickleball facility will do both, as well as attracting new residents to the community and our Municipality overall."
District 4 Councillor Mary Elliott praised the work of all those involved in the project.
"I've never met a more ambitious, determined bunch of individuals in my life," she said of the pickleball club members.
They were successful in everything they set out to do and because of their hard work the courts will soon be a reality, she said.
"Something I'm really proud of is it's going to bring people together," Elliott said. "It's good for our health. It's good for all ages."
Elliott also thanked the River John Legion for providing space on their property for the new courts and the River John Fire Department for opening their doors to create an indoor pickleball court that helped introduce the sport to the area.
River John Pickleball Club President Wade Taylor spoke and thanked the Municipality for its support.
The River John Pickleball Society also received $60K in funding from the provincial government as well as $25,000 from the federal government for the project.
The pickleball courts are being constructed on the grounds of the River John Legion and are expected to be completed by late summer.
Pickleball is the fastest-growing sport in North America. According to Pickleball Canada there are around 1 million Canadians playing pickleball at least once a month with 45 per cent of those playing four or more times a month.
"This is the second pickleball facility that our County has financially assisted, the first being in Little Harbour," Warden Parker said. "Councillors unanimously agree that it is a wise expenditure of taxpayer dollars."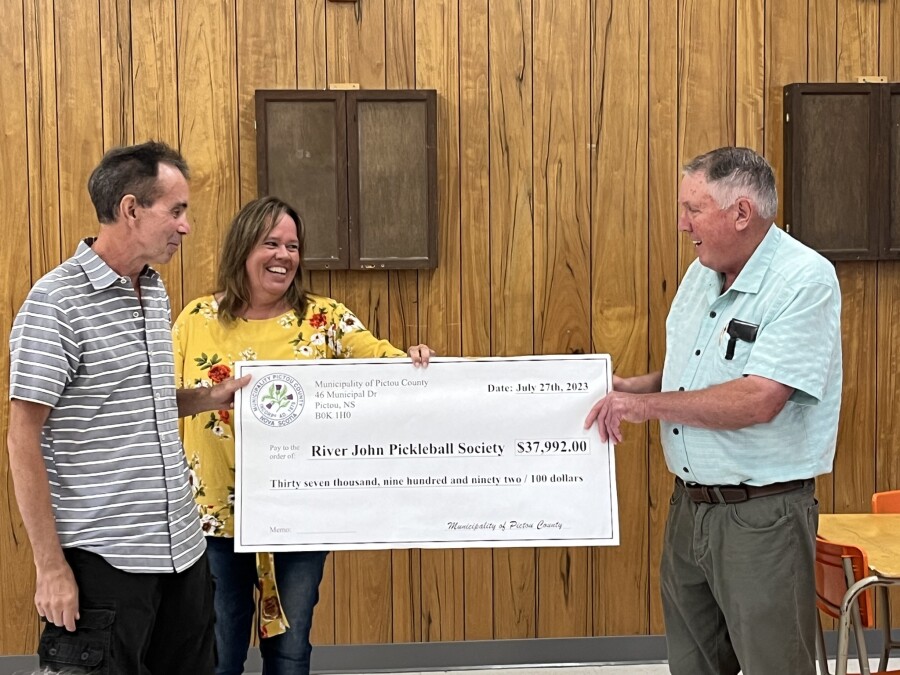 Pictured presenting the cheque to River John Pickleball Club President Wade Taylor are Councillor Mary Elliott and Warden Robert Parker.