May is Lyme Disease Awareness Month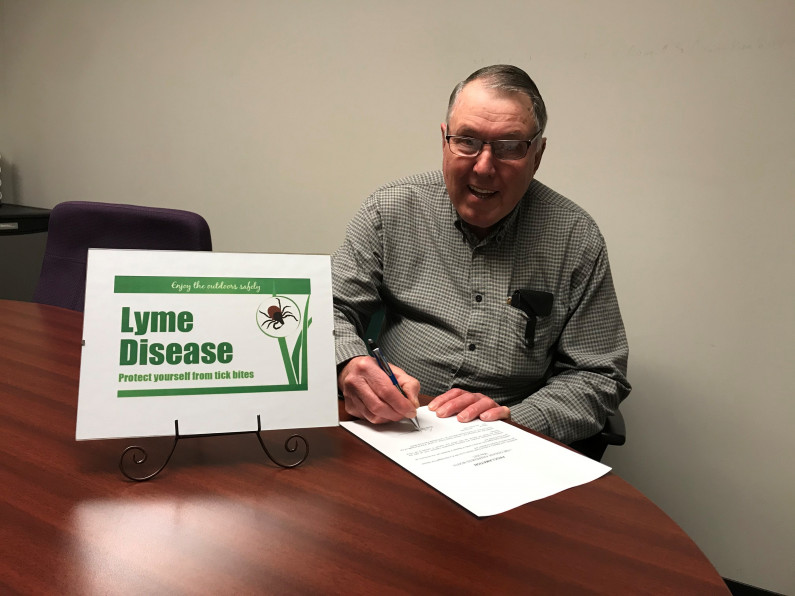 MOPC Warden Robert Parker signs a proclamation declaring May as Lyme Disease Awareness Month.
The Municipality of Pictou County has proclaimed May as Lyme Disease Awareness Month.
Warden Robert Parker signed the proclamation during Monday's April council meeting following a request by the Canadian Lyme Disease Foundation which is a charitable organization dedicated to promoting research, education, diagnosis and treatment of Lyme and associated diseases.
"We do need to keep in mind that several people in the County and across this province are suffering. We need to spread that awareness," said Warden Parker.
Lyme disease is a bacterial infection transmitted to humans by a bite from an infected blacklegged tick. In Nova Scotia, only the blacklegged tick carries the bacteria that causes Lyme disease, and not all blacklegged ticks carry the bacteria.
Ticks attach to the skin and feed on blood. In most cases, a tick carrying the bacteria that can cause Lyme disease must attach and feed for at least 24 hours before the bacteria can be transmitted.
Nova Scotia has a suitable climate for tick populations. Blacklegged ticks survive best in areas that provide a moist habitat and are often found in and near wooded or forested areas, shrubs, long grass, leaf litter, urban parks and gardens. Adult blacklegged ticks are most active in the spring and fall. They remain active until the temperature is consistently below 4°C. Larvae and nymphs are most active in the spring and summer.
For more information on Lyme Disease:
https://canlyme.com/
https://novascotia.ca/dhw/CDPC/lyme.asp