Little Harbour FD Donates Equipment to Pictou Landing FD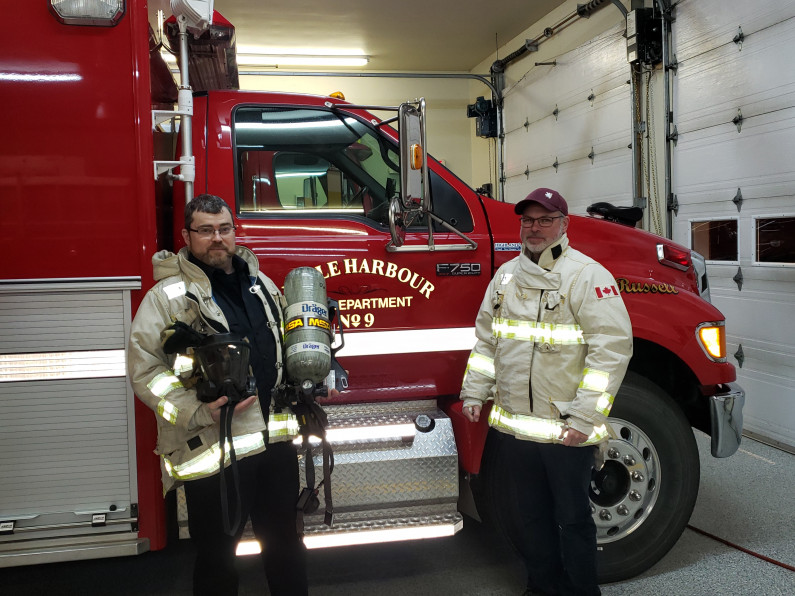 The Little Harbour Fire Department recently purchased new self contained breathing apparatus. Its old SCBA still has some good use left in it and the actual value is approx. $1000 per pack (about 10% of a new pack).
At Little Harbour's recent April meeting it was decided that it would donate five of its 10 surplus packs to Pictou Landing Fire Dept. Pictou Landing will use it to replace three of their own which will have them all the same and add a couple more to their total number.
Total equipment donated was;
10 masks
10 carbon fiber bottles recently replaced and tested
5 MSA SCBA packs
Here, on the left, (Dan Banfield Deputy Chief of Pictou Landing) and (Greg Evans, Chief Little Harbour) exchange the donations.
Little Harbour Chief Evans said Pictou Landing is considered its sister department and have provided support to Little Harbour countless times on various calls. He said Pictou Landing is currently trying to fund a roof replacement for its hall and donating this equipment will help it concentrate on the funding for the roof rather than thinking about having to replace equipment.