Lots of Interest in Go Clean Get Green Week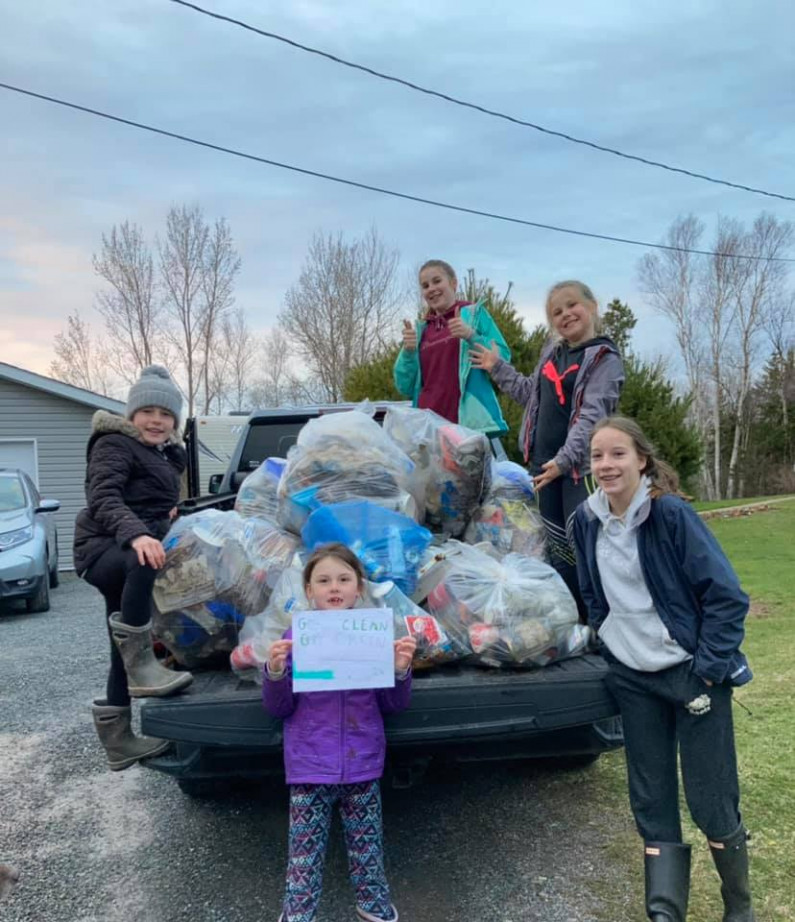 Children and adults from District 3 kicked off Go Clean Get Green Week on Monday, April 19 with a clean up along the Division Road in District 3. 
The response to the 2021 Go Clean Get Green Campaign has been strong, says Sasha Bernard, regional educator for Pictou County Solid Waste.
The annual campaign kicked off Monday with close to 200 registrants ready to pick up litter along roadsides, beaches and other public areas.
"This is the best that have had in many years," she said. "People are really taking the challenge."  
People or teams participating the cleanup event are asked to register online at www. www.gocleangetgreen.ca or by calling 902-396-1495 so supplies can be made available from solid waste. Registrants will receive a kit with garbage and recycling bags as well as gloves and Covid safe instructions. There will also be information in the kit about prizes people can register for by taking photos of the items they collected.
Due to Covid-19 restrictions last year, people were encouraged to clean up around their own properties, but the full Go Clean Get Green campaign did not take place.   Bernard said missing it last year might attribute to the enthusiasm this year, but people could also be seeing more litter roadside because there is no snow cover.
There are several community groups in rural Pictou County hosting events are part of the Community Clean Up Day this Saturday. 
District 3 has challenged District 5 to a clean up. For more information, contact:
District 3 Coun. Darla MacKeil at darla.mackeil@munpict.ca
District 5 Coun. Wayne Murray at wayne.murray@munpict.ca
District 10 is also hosting its own clean up. The Community of Thorburn will be doing a clean up on April 24 as part of the Go Clean Get Green initiative.  Participants will meet at Crossroads Country Market at 9 a.m. and it will be discussed at this time which areas of road will be covered. No pre-registration required.  A truck will travel selected roads to pick up bags of collected litter. A barbecue will follow at 12:30 p.m. for participants at Crossroads Country Market.
Residents are encouraged to clean up individually or in small groups respecting social distancing and gathering limits. Bags of litter collected throughout the week can be distributed amongst participants and added to your regular bi-weekly garbage collection. If you have conducted an extensive litter clean-up contact us at (902) 396-1495 or email info@pcssa.ca for assistance.
A complete list of drop off locations for Saturday's Clean Up date for waste collected can be found at www.gocleangetgreen.ca