MOPC Council thanks Abercombie FD for their commitment improving traffic safety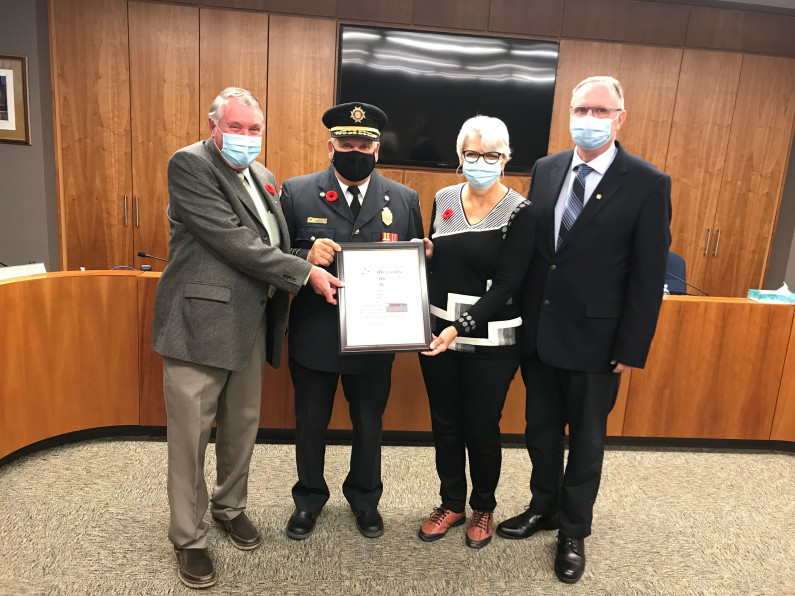 MOPC Council invited Abercrombie Fire Chief Sandy MacPherson and Abercrombie Auxiliary President Anna Svenson to its chambers Monday to present the fire department with a plaque in recognition of its hard work and dedication in getting a roundabout at the Abercrombie-Trenton Connector Intersection.
MOPC Warden Robert Parker commended the fire department for continuing to lobby for the roundabout which is expected to improve traffic safety in the area.
"Fire departments save lives but usually they do this when they are at the scene," said Warden Parker. "In this case, we won't know exactly how many lives will be saved but we know lives will be saved."
District 8 Coun. Larry Turner also thanked the fire department on behalf of local residents. He said there have been nine fatalities at that intersection and first responders never knew what to expect every time a call came in. Now, as the roundabout nears completion, he said the stress on first responders in the area should be reduced because of it.
Abercrombie Fire Chief MacPherson thanked the MOPC for its support of the fire department and its mission to see the roundabout built.
"You guys pushed for it as hard as we did," he said.