Christmas Fund Donation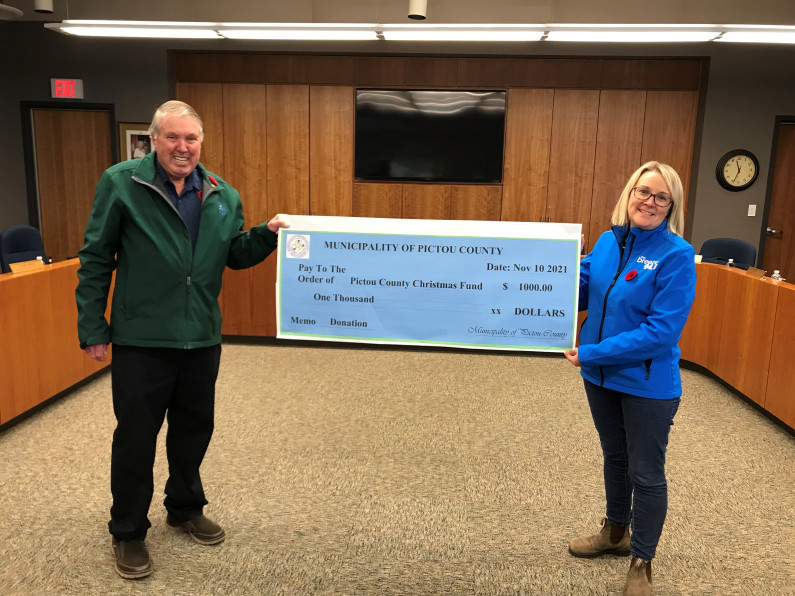 MOPC Warden Robert Parker presented Pictou County Christmas Fund Volunteer Ann MacGregor with a cheque for $1000 on behalf of the Municipality of Pictou County.
The Pictou County Christmas Fund will take place this Sunday from 1 to 6 p.m. Funds raised to the Pictou County Food Banks (East and West).
A telethon will be held, being hosted from the deCoste Performing Arts Centre in Pictou and broadcast by Eastlink as usual, but it will be closed to the public. All of the amazing local entertainment will be broadcast virtually on show day.
Watch the telethon on Eastlink Community TV or tune in online at:
https://941thebreeze.com/
thanks to Lucas Technology & Analytics on Nov. 28 and consider making a donation to help make the holidays a little brighter for county residents in need.
In-person donations will also be accepted at the office of The Advocate newspaper, 21 George St., Pictou, at the office of Big Brothers Big Sisters of Pictou County on MacGregor Street in New Glasgow, Atlantic Insurance on Provost Street in New Glasgow, as well as at any bank in Pictou County or the Credit Union in New Glasgow.