Pictou County RENS tackling some of the area's biggest workplace problems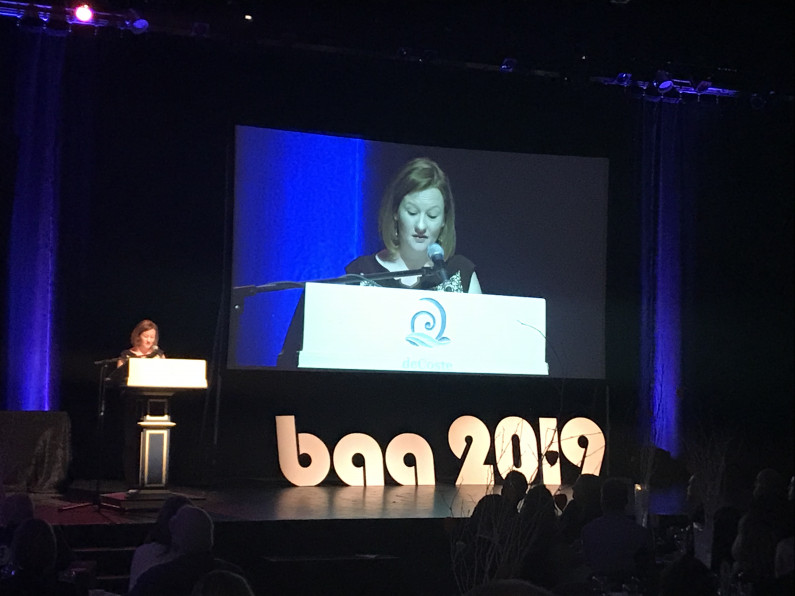 PICTOU, NS – Action is being taken to help overcome some of the most serious challenges in Pictou County's workforce, says the chief executive officer of the Pictou County Regional Enterprise Network.
During the Oct. 17 Pictou County Chamber of Commerce Business Awards, Sarah MacIntosh-Wiseman shared PCRENS's work in the past year which includes partnerships with local non-profits, businesses, and educational organizations to improve the local employment rate and economy.
"We spent the first seven months on a recon mission trying to get a better sense of what other RENS are doing and not doing," she said. "What has worked and not worked well and what issues are top of mind in our local community. Our next step will be building our regional strategy, but in the meantime, we are taking on projects that aligned with the outcomes that have already been identified by the province as well as some priorities that have become obvious really quickly locally."
 Currently, PCRENS is working on 20 to 30 projects, funding applications, partnership discussions and getting these concepts moving in the right direction.
For example, she said, some employers have said finding rental housing for new employees is a problem, so PCRENS has started discussions with an employer who is willing to sign a long term lease on a multi-family house and three non-profit groups are willing to help with the families transition to the area.
"They would consider servicing and maintaining houses, providing settlement supports in it and even providing a set number of meals for the week. The concept is a high-quality transition house that will allow new employees with a clean, safe and comfortable landing space when they first arrive in Pictou County."
MacIntosh-Wiseman said Summer Street Industries is an example of a local non-profit that is an economic driver in the county.
One of Summer Street's managers is going to try out a new role as a Social innovation developer and she will be working out of the REN office regularly. She said Summer Street is pro-actively looking for new ways it can partner with private businesses in a way that benefits both the small private businesses and the clients who are served at SSI.
"What a fantastic win-win. One example is, there are multiple food-related entrepreneurs with food-related products who as it stands to need to personally invest in commercial kitchen equipment to get their product on store shelves. Maybe there is a way for Summer Street to make its facilities available with the understanding it creates new employment opportunities for adults with intellectual disabilities and reduces the need for individuals starts to have to go out and bring their kitchens up to that commercial level. "
 Another challenge in the area is labour market shortages and PCRENS is finding out that lack of skill is not the only thing keeping people from being employed.  Areas such as lack of transportation, childcare, mental health services, cultural differences, and confidence are barriers as well so PCRENS has established a sector-led roundtable with employers who understand these barriers.
Employers also need people with the right skills which is why PCRENS has also been talking with the Nova Scotia Community College and other partners who can make education more accessible for everyone.
MacIntosh-Wiseman was also excited to announce that Pictou County has been selected for a pilot project that will be first of its kind internationally.  During the past few months, PCRENS has hosted several meetings with 20 plus federal, provincial and international partners as well as non-government organizations and employers that represent both small and large business sectors. The Canadian Head of United Nations High Commission for Refugees has also been to Pictou County to discuss the project.
"Many local employers already welcome economic immigrants whether they are coming here from the Philippines, Toronto or the United States. There are a few things that are unique about the pilot project.  First, this project is being driven by local economic needs as it relates to labour market shortages and specific sectors in our communities. Secondly, instead of employers paying fees to a recruiter to identify skilled candidates we are working with three International NGOs who have skilled, experienced and English-speaking individuals who just happen to be refugees in need of a new home. "
She said Glen Haven Manor is the first employer to test the project. It has already made four job offers to qualified candidates who were interviewed by Skype and were so impressed with the caliber of the candidates who are all highly skilled RNs that Glen Haven representatives will travel to Kenya next month to interview 20 to 30 additional applicants with the goal of filling 20 continuing care assistant positions here locally.  
The program stipulates that employers can only hire immigrants if the employer can prove they are unable to hire locally. No local community members should be losing any work because of this project, she said. Everyone who does come under the project will be fluent in English and have the requisite skills to fill the job.
"The United Nations will be flying us into the second-largest refugee camp in the world and this will be the first time an employer has gone into a camp with the context of bringing them to Canada not as refugees but as skilled and qualified economic immigrants. Most applicants interviewed so far are highly skilled RNs and physicians. Those who are selected will have to start at entry-level CCA positions as they work to upgrade their Canadian credentials."