River John teen overwhelmed with experience on national stage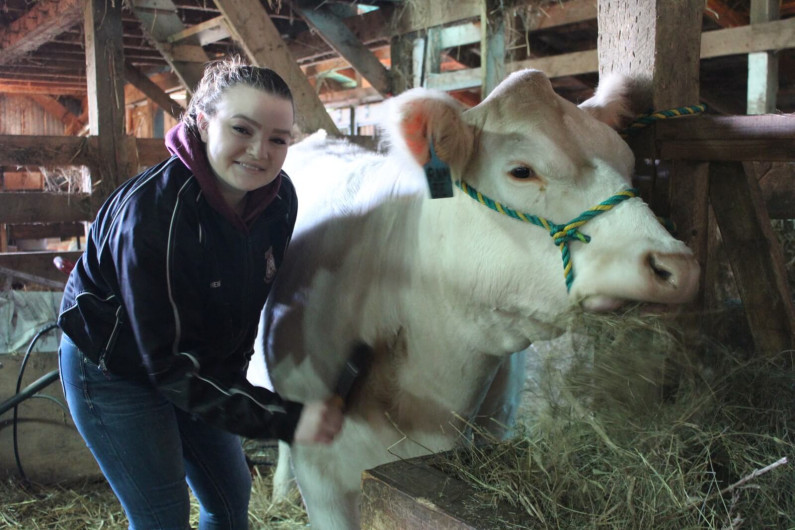 River John's Elizabeth Heighton had her first experience at the Royal Agricultural Winter Fair where she competed with Emma. The two have been working together for less than a year and have formed a close bond.
River John, NS - Elizabeth Heighton has seen pictures and videos before of the Royal Agricultural Winter Fair.
But she said that was nothing like actually being there.
The 17-year-old from River John had the opportunity to compete at the Royal late last year after being selected during the recent 4-H Pro Show.
"It was amazing," said Heighton, a Grade 12 student at Tatamagouche Regional Academy. "I have a lot of really good memories and now some good friends. You travel up with a group of about 10 others and you spend all your time together, so by the end of the week you've got a really good group of friends. I have a lot of good memories."
Heighton was just seven years old when she started in 4-H. She said it runs in her family — her grandmother and mother were both members.
"It felt right for me, too," she said. "I just fell in love from Day 1. For me, I wasn't a shy kid, so I tended to like the public speaking of it. It's a friendly group and you're with people with the same interests. There's never a dull moment in 4-H. It's quite fun."
Heighton was 11 when she started in livestock, first working with sheep, then moving into beef. It's now her fifth year working with beef, and her first with Charolais. She started working with Emma earlier in the year, building up a bond that would take them through many competitions and wins.
"It's extremely important to have such a close bond. If your animal doesn't trust you, they can go nuts in competition," said Heighton. "At competitions, they're in a new place. If they don't know you, they know no one."
The River John 4-H Club duo made it through to the semi-finals in showmanship at the Royal, after Emma placed second in the senior senior Charolais class, as well as second in conformation.
"I was more excited than I was nervous," admitted Heighton. "We really didn't have time to be nervous, there was just so much to do."
Joining Heighton at the Royal was Ken Langille of Golden Brook Farm in Malagash, where Emma stays. Heighton and Langille started working together last year, with Heighton showing for Langille in at the exhibition in Truro.
"Elizabeth is just like family," said Bonnie Langille, Ken's wife. "She's here more than she is at home. She's put so much time and effort in with Emma, and this has been a big thrill for both of us, but Ken especially. It's been Ken's dream to have one of his cattle shown at the Royal."
But while it was an exciting time for the Langilles, Bonnie said they were most excited for Heighton.
"We've watched her do all the preparations for this, we've watched her through all the shows. It's just like having our own granddaughter involved."
With another three or four years left of eligibility with 4-H, Heighton said she plans to continue for as long as she can.
"I'm really hoping to attend the Royal again next year," she said, adding another heifer was purchased in Ontario. "There was so much going on that it is hard to remember it all. I'd love to stay for all of it next time, but it's hard to stay when you're in school."
Story and photo provided by the Pictou Advocate.
(www.pictouadvocate.com)