Still Believing After 30 Years: MORE Run will take place May 8 throughout Pictou County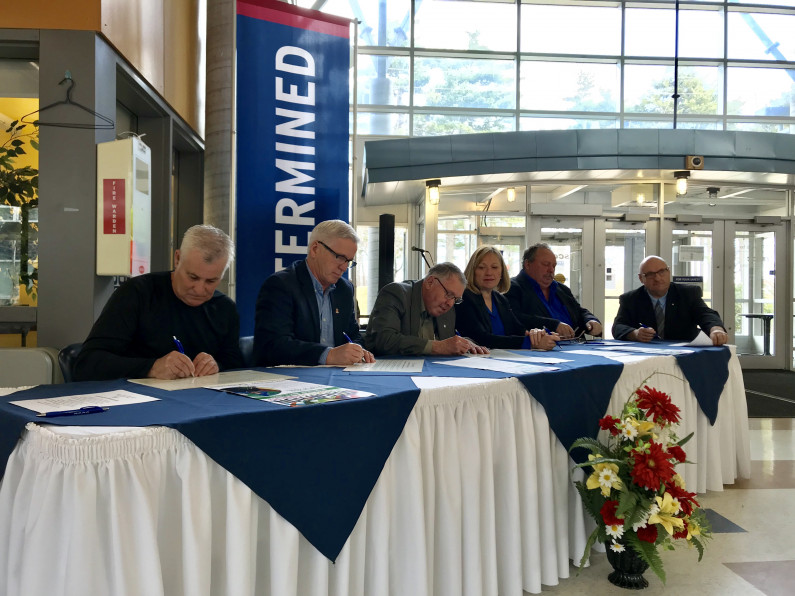 Municipal leaders from the five Towns and County sign a proclamation in honour of the Marathon of Respect and Equality that will take place Wednesday, May 8 through Pictou County.  Here, from the left:  Westville Mayor Roger MacKay, Pictou Mayor Jim Ryan, Municipality of Pictou County Warden Robert Parker, New Glasgow Mayor Nancy Dicks, Trenton Coun. VJ Earle and Stellarton Deputy Mayor Bryan Knight.  
STELLARTON, NS – Thirty years ago, Henderson Paris turned a negative experience into a positive one.
Today, he continues to see the rewards of such a decision.
"This event and the former Run Against Racism played a huge role in my development because 30 years ago, I knew something had to be done in the County to bring awareness about racial discrimination." 
Mr. Paris is the honorary chair for the Marathon of Respect and Equality taking place Wednesday, May 8 through Pictou County.  He founded the Run Against Racism 30 years ago and it was taken over by Diane and Peter White 10 years ago and renamed the MORE Run.
Mr. Paris said when he started the run, he knew something had to be done in the County because of racial discrimination issues that were happening quite often, but he was unsure what would have a lasting impact.
Running has always been a big part of his life, so he turned to what he knew best.   
"It has taken its toll on my body, but I would do it again in a heartbeat. I would push my body because I see the results. I see the results here today."
When the Run Against Racism started 30 years ago, Mr. Paris remembers setting out on a rainy morning joined by three other runners.
Today, hundreds of people join the run either by hosting events at schools or taking part in the marathon itself.
Peter White, co-founder of the MORE Run, said he has seen the same growth over the years.
"The primary goal of MORE today is the same one as when we took on the job from Henderson, Carol and his committee did for 20 years. We want to eliminate racial discrimination in our community.  We want to make sure everyone who lives in Pictou County is respected and accepted regardless of who they are and what their background may be.
Mr. White said each year we chose a specific theme for your run to help us spread that message and this year the theme is Still Believing After 30 Years.  It's a statement of commitment and conviction and an acknowledgement that there is still a need for the run because there is still prejudices to take on and inequalities that need to be addressed.
"Next week our run will be dedicated to taking on those prejudices that still exist and celebrating the worth of each of us in our community."
During the kick off ceremony at the Nova Scotia Community College in Stellarton, Warden Robert Parker along with the mayors from the five neighbouring municipalities signed a proclamation for the MORE Run.  Pictou Landing First Nations Chief Andrea Paul, who was not present Tuesday, will also be asked to sign it.
A performance as also given by the North Nova Education Centre Performing Arts Group as well as Spoken Word Poetry by Aliyah Fraser.
The 30th Annual Marathon of Respect and Equality will begin Wednesday, May 8 at 8 a.m. in Pictou and will end at 3:30 p.m. at the North Nova Education Centre in New Glasgow.  It will be making stops throughout the day in Westville, Trenton, Stellarton and Pictou Landing First Nations.