The Municipality of Pictou County will see an increase in its Federal Gas Tax funding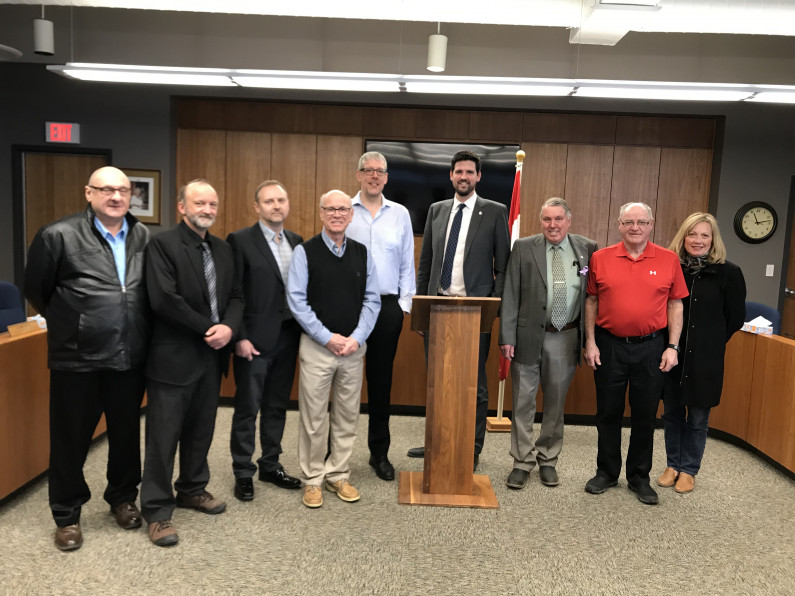 In the photo from the left:  Town of Stellarton Deputy Mayor Bryan Knight, District of St. Mary's Warden Michael Mosher,  Trenton Mayor Shannon MacInnis,  Westville Coun.  Lennie White, Stellarton Mayor Danny MacGillivray,  Central Nova MP Sean Fraser, Pictou County Warden Robert Parker,  Deputy Warden Antigonish County Hughie Stewart and New Glasgow Mayor Nancy Dicks were on hand for the announcement. 
PICTOU, NS –  Municipalities in Central Nova, including Pictou County, will receive an additional transfer of more than $3.8 miillion from the federal government.
The Federal Budget 2019 has invested $2.2 Billion through the federal Gas Tax Fund to address short-term infrastructure priorities in more than 3,600 municipalities and first nation communities, including $58.5 Million for NS.
Central Nova MP Sean Fraser announced Friday during a press conference at the Administration Building of the Municipality of Pictou County that Nova Scotia's share of more than $3.8 Million is allocated to municipalities within his region.
The total amounts announced include:
$666,420.46 Rural Municipality of Antigonish
$325,640.27 Town of Antigonish
$815,729.85 Town of New Glasgow
$1,082,977.09 Rural Municipality of Pictou
$229,484.83 Town of Pictou
$344,555.99 Town of Stellarton
$157,631.92 Town of Trenton
$234,258.91 Town of Westville
"This is a significant amount of money for our County and will go a long ways," said County Warden Robert Parker. "First of all it will help us with our high speed internet and cellular service project and the engineering of that and will also allow us to get to other projects within the County we might not be able to do otherwise.  We know it is a one time injection and we are going to use it to invest in as much of the County as we can." 
Elsewhere, more than $26M has been announced for Halifax Regional Municipality which includes the Eastern Shore.
"Municipal infrastructure projects like the New Water Treatment Plant in Town of Pictou, water and sewer upgrades in New Glasgow, and renovations to the Sherbrooke Legion make our communities better for everyone. With this one-time Gas Tax Fund top up, even more of these vitally important projects will be funded," said Fraser. "By transferring the funds directly to the municipalities, our local priorities will be front and centre. The people who live in our communities will get to have their say on what projects and initiatives are most important to them. Each community has different needs, and now they can address those needs individually."
The federal Gas Tax Fund (GTF) is a permanent source of annual funding to provinces and territories, who in turn flow this funding to their municipalities supporting local infrastructure priorities. To date more than $23B has been invested into municipalities through the Gas Tax Fund.
This one-time top up will see funds transferred directly to the municipalities allowing local communities to select how best to direct the funds with the flexibility to make strategic investments across 18 project categories. These categories include local roads and bridges, highways, broadband connectivity, public transit, clean and wastewater projects, sport and recreation infrastructure, and tourism infrastructure.